Get a free Kingston SSD when you buy a Nvidia GTX 1050Ti or 1060
But is it worth it with Turing on the horizon?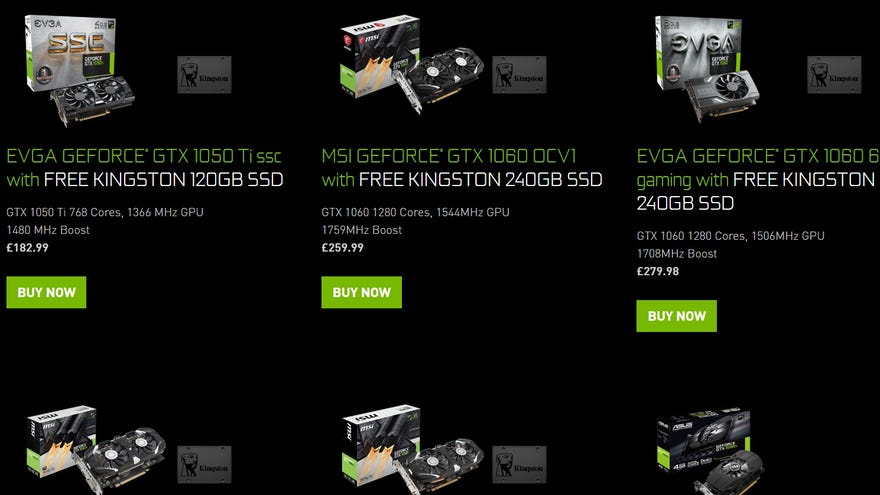 In what's probably an attempt to shift as many graphics cards as possible before the new crop of RTX cards arrive, Nvidia's UK store and assorted partners are now bundling in free Kingston SSDs with a number of GTX 10-series graphics cards. Here's what's on offer.
The SSDs in question are Kingston's 120GB and 240GB A400 2.5in drives, which normally go for around £27 and £42 respectively. They're not the fastest SSDs on the planet, but considering how high graphics card prices have been up until quite recently, I'd rather take a free SSD over a free copy of The Crew 2 any day.
At the moment, the offer's only available on a select range of third-party GTX 1050 Ti and GTX 1060 cards from EVGA and MSI, but that's still more than enough for lovely, smooth 1080p and 1440p game playing alike - just have a look at our graphics card line-up if you don't believe me.
Of course, buying a new graphics card now may seem like a slightly silly idea when Nvidia's new Turing cards are allegedly just around the corner - despite what Nvidia's CEO says about them not being here for "a long time". Indeed, fresh news has recently surfaced that we may even see Nvidia's hotly-rumoured GTX 1180 make its first appearance at this year's Gamescom sometime around August 20, which is pretty damn soon.
According to a leaked email obtained by Gamer Meld, Nvidia's new graphics cards are apparently launching on the following dates:
- August 30 for the Nvidia GeForce GTX 1180
- September 30 for the Nvidia GeForce GTX 1170 and something called the GTX 1180+
- October 30 for the Nvidia GeForce GTX 1160
The one thing we still don't know is how much these new cards will cost, which will likely play a big role in deciding whether it's worth plumping for these new, presumably more powerful GPUs, or simply getting a GTX 10-series on the relative cheap. Needless to say, all eyes will be firmly fixed on Nvidia's activity at Gamescom for any real concrete news, but if you don't fancy waiting until then to get a new graphics card, at least you can nab yourself some free storage in the process right now.