Geneshift's top-down, two-minute Battle Royale is available now
Instant chicken dinner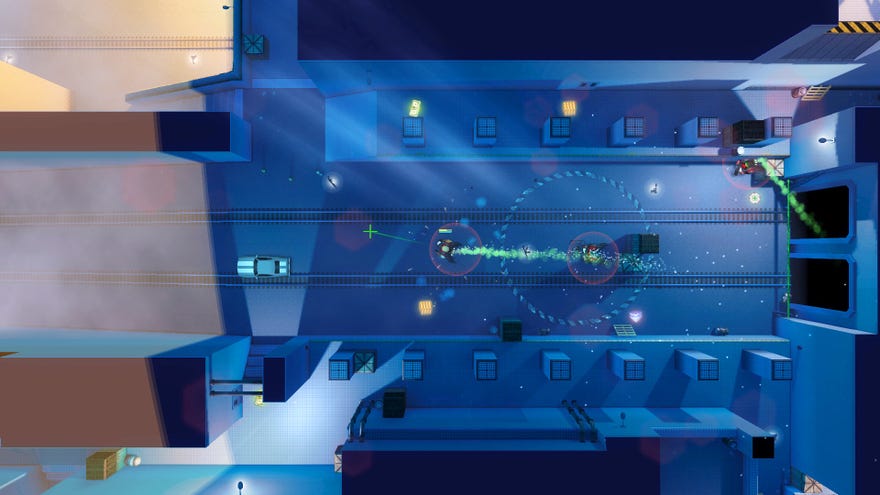 Early access top-down shooter Geneshift is, to quote their own marketing materials, "hopping on the [Battle Royale] bandwagon" today, and you'll be able to play the new mode for free. It's got some twists that set it apart from your Fortnites and Plunkbats, too, like each round lasting only two minutes. You can get a feel for the action in the trailer below:
Another twist borrows from the "mutant abilities" of the underlying game. Dying means respawning as a zombie, which gives you limited health and only a melee attack, but the chance to get back into the game proper if you can kill another player. It also allows you to explore outside of the circle of safety, so you can gather cash to spend on weapons and upgrades in future rounds.
Though each round is extremely short, the game itself can go on for a while. Players need to amass 50 points (10 for a win, one per kill) and then be the last person standing in another round to finally win. My versus-bots demo game took quite a bit longer than the suggested 20 minutes as a result, but the overall time is still on par with a long-ish Plunkbat run, and the speed of the circle (plus the top-down view) means that there's not a lot of hanging around or hiding involved.
Developers Nik Nak Studios say that they want the Battle Royale to become "the mode that Geneshift [is] known for," because it serves as a gentler introduction to new players. For example, though there are more than 30 potential abilities to unlock, they're introduced gradually as you find them within the map. On the other hand, the understanding of the weapons, skills, and car combat should transfer over if and when players do want to tackle the pre-existing campaign.
It's an interesting shift of gears, one that's obviously intended to combine admitted bandwagon hopping with some fresh ideas, without throwing out all the game's previous foundations. You can see what you think by downloading the demo on Steam.