Here's when Destiny 2: Curse of Osiris releases in your timezone
Coming soon to a Mercury near you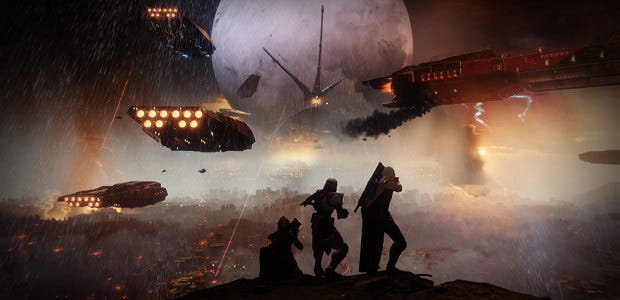 Merry Destiny Day everybody! Destiny 2: Curse of Osiris is out today, but do you know when? If not, you're in the right place: I've posted exactly when you can get your mits on it in various timezones below. Because I'm a font of Destiny 2 expansion timing knowledge, I can also tell you that there'll be around 3 hours of server downtime before the update/DLC lands, and that you can start downloading about an hour after that starts. Again, timezone specifics are all conveniently laid out below.
The server downtime will start about 3 hours before you can play, but as mentioned you can start downloading an hour after it starts if you want to start playing at the first possible moment. Personally, I'd be wary about planning too closely around these exact times - Bungie have a history of bringing the servers down for longer than they mean to whenever they do maintenance.

When you can start downloading Destiny 2: Curse of Osiris
US West: 8am
US East: 11am
UK: 4pm
West Europe: 5pm
Sydney: 3am (Wednesday)

When you can play Destiny 2: Curse of Osiris
US West: 10am
US East: 1pm
UK: 6pm
West Europe: 7pm
Sydney: 5am (Wednesday)
In case I haven't listed yours up there, here's a handy timezone converter - which you could probably find for yourself, but I thought I'd save you a google.
In addition to the Vex-focused Curse of Osiris expansion, today also brings the first batch of changes aimed at making Destiny's endgame a smoother and more rewarding experience. Various activities will now hand out more significant rewards, and vendors will now only summon you if they've actually got something to give you. Honestly, that change alone should make the grind much more bearable. Anyone who's played will know how frustrating it is to fly all the way home to hand in some vendor tokens, only to have them just stare at you blankly while they wait for you to go out and earn more.
I'll hopefully have a play of it in the next couple of days, and find out whether the changes combined with the new stuff will be enough to make me want to regularly come back to the game. Most likely the answer to that will be 'no, but it's a little better now', but you never know. I should at least have some fun pretending my Alexa is Nolan North.