How to open the triple authentication door in Honkai: Star Rail
Steps to open up the locked Monitoring Room in Herta Space Station Base Zone and complete the Emptiness of Locus Silentii sidequest
How do you open the triple authentication door in Herta Space Station Base Zone in Honkai: Star Rail? Most puzzles you encounter in Honkai: Star Rail are part of a larger mission, and even if you need to think about their solutions a little, they will at least be fairly well-signposted. But the locked door in the Base Zone of Herta Space Station is an anomaly: you'll only know about it once you try (and fail) to enter it, and the clues as to how to open it aren't tracked in your mission checklist, making it easy to get lost and confused.
Luckily, we've worked out how to get through the triple authentication door and claim the goodies behind it. Read on for details of every step to getting that pesky door open and information on what you can expect to find within.
Where is the triple authentication door in Honkai: Star Rail?
The locked triple authentication door in Honkai: Star Rail is located in the Base Zone of Herta Space Station. It can be seen on the map on the right-hand fork of the main corridor in the northern part of the area. You will unlock this area as you progress through the "Road to Revival" sidequest, which activates after you receive a text message from Arlan.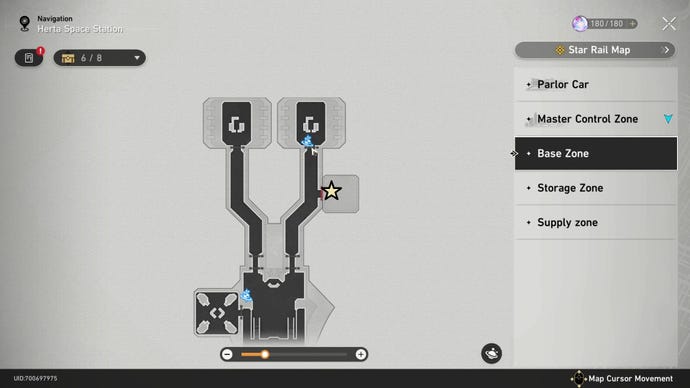 Interacting with the door door control plinth nearby results in a "verification failure" notice from the System Hint, along with a "retrieve authentication verification card" dialogue tree that presents you with clues about finding the three required special access cards:
Tier-1 Certification: "Beacon signal is coming from the master control zone. You see a blurry surveillance video recording. The final image is of a researcher with a luscious hairstyle kneeling down and reaching toward something."
Tier-2 Certification: "Beacon signal is coming from the storage zone. The surveillance video you could access is extremely blurry. You can only see some Wubbaboos floating downwards outside of a wall-sized window. This seems to be an elevated room somewhere."
Tier-3 Certification: "Beacon signal is coming from the base zone. The signal is very strong, and is within 300 meters! You see a group of images shot in strange angles. After much thought, you become convinced that the torso in the images is a remnant of the Antimatter Legion. The camera seems to be attached on this monster's body".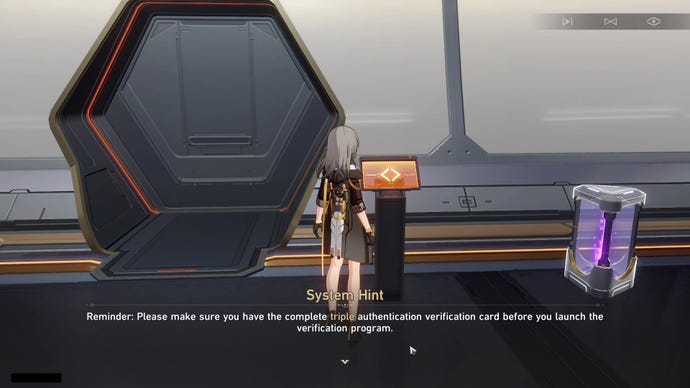 Note that, despite their nominal ordering, you can retrieve the three access cards in any order, and indeed do not need to have viewed these hints or interacted with the door control in order to do so.
---
How to obtain Tier-1 Certification
To get the first special access card, you simply need to talk to an NPC called Man With Luscious Hair five times. You can find him in the Master Control Zone, standing in the central corridor just north of Wen Shiqi the merchant. (Note that he actually uses the same model as Wen Shiqi, which had me confusedly trying to chat up the wrong character for literal days.)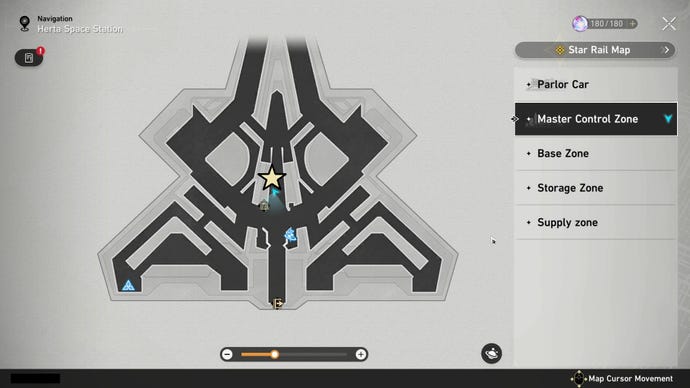 You simply need to have five conversations with the Man With Luscious Hair, which you can run through back-to-back or leave for as long as you want. He'll keep a helpful tally of how many times you've spoken as part of his dialogue, which goes from silly to devastatingly tragic as his story unfolds.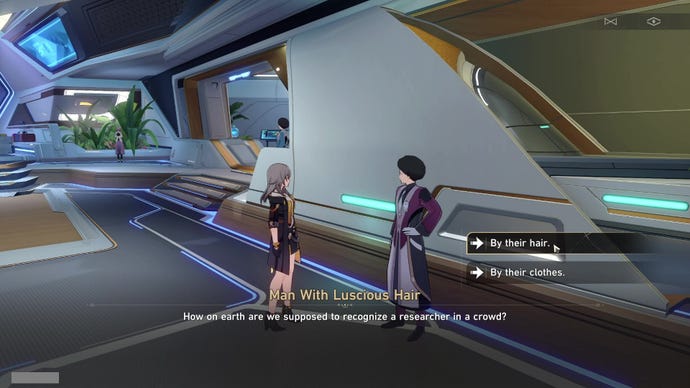 At the end of your fifth conversation, he'll hand over the Corporate Access Authentication card.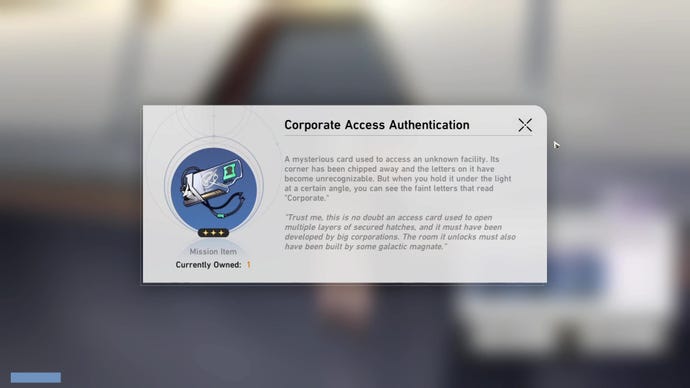 ---
How to obtain Tier-2 Certification
Travel to the Storage Zone by the "Outside the Control Center" Space Anchor on the first floor. Note that you will be prompted to explore this area as part of the "To: The Faint Star" sidequest that triggers after you complete "Road to Revival" and read Rocky's subsequent text message. You can open it up before then, but if you're trying to avoid doubling back on yourself, you can work towards both at once.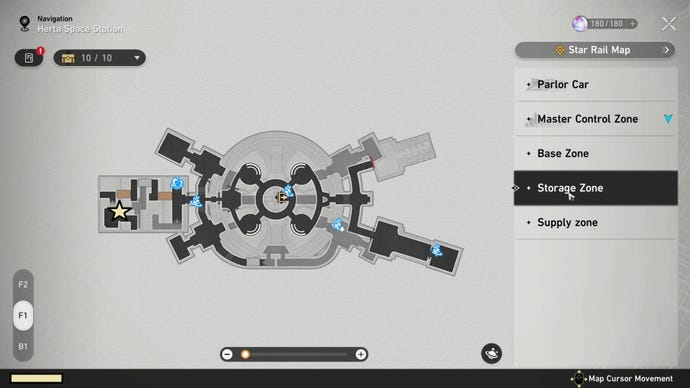 Once in the Outside the Control Center (First Floor) area of the Storage Zone, enter the room right next to the fast travel point and complete the bridge puzzle by interacting with every Control Device you pass to create a path in front of you. If you get stuck, look behind boxes on your current platform to find Control Devices that are more hidden-away. Once the puzzle is completed, you'll be able to access a room at the top of the area which contains a Precious Treasure chest.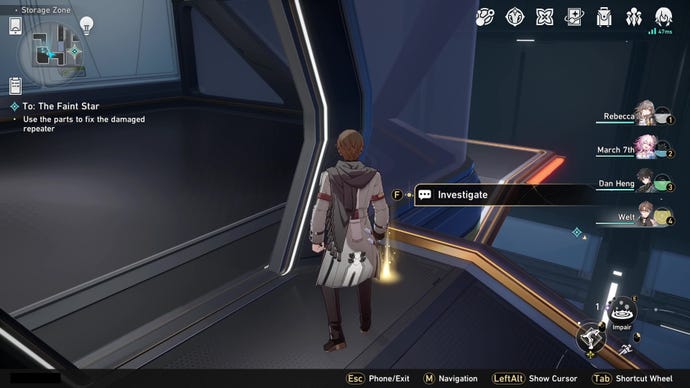 You can pick up the Thousand Stars Access Authentication card by interacting with the glowing "Investigate" spot just outside the Treasure room's door.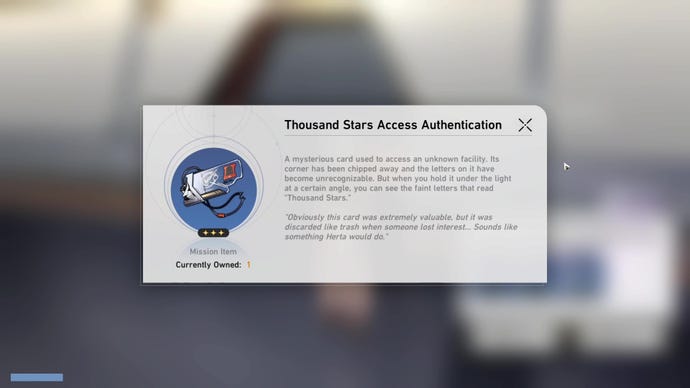 ---
How to obtain Tier-3 Certification
You will almost certainly have obtained this special access card by the time you actually arrive at the triple authentication door. It's dropped by the Blaze Out of Space enemy you fight when you go to activate the extinguished space anchor in the adjacent room, as part of the "Road to Revival" sidequest.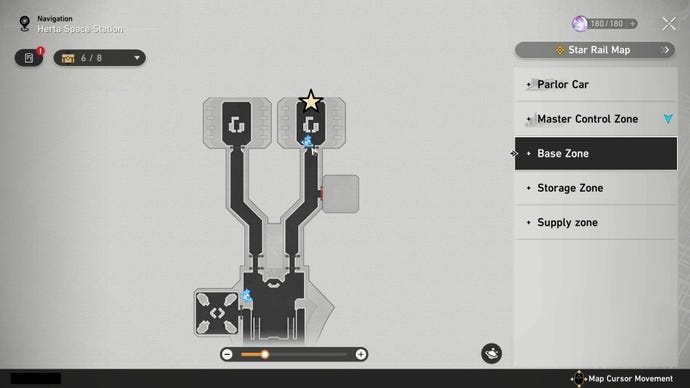 Defeat this enemy and you'll pick up the [REDACTED] Access Authentication card.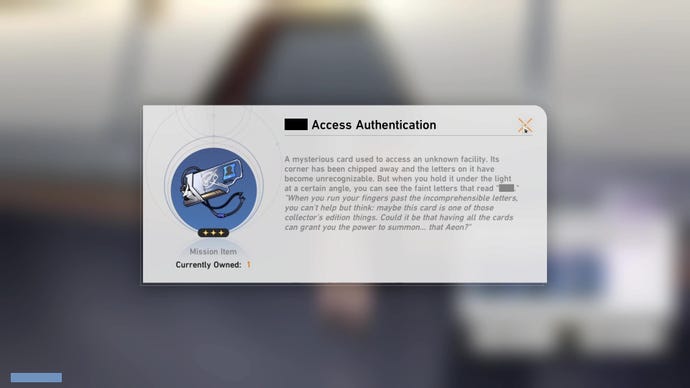 ---
Opening the door
Upon collecting the third card, you'll receive an in-game text message from the Herta Panopticon System acknowledging that you now have special card access. This also activates the sidequest "Emptiness of Locus Silentii" with the objective of getting the door open, although since you've already fulfilled nearly all of the conditions by obtaining all the access cards, it's a bit moot.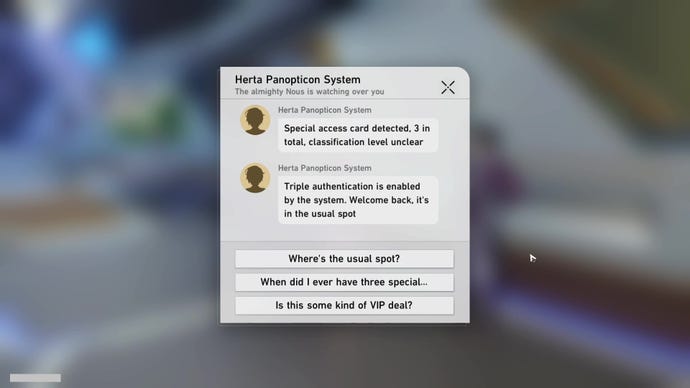 Return to the door and interact with its controller once again to plug in the necessary items. You'll receive a few small rewards for completing the late-blooming "Emptiness of Locus Silentii" sidequest, but more importantly, you can now access the Base Zone Monitoring Room.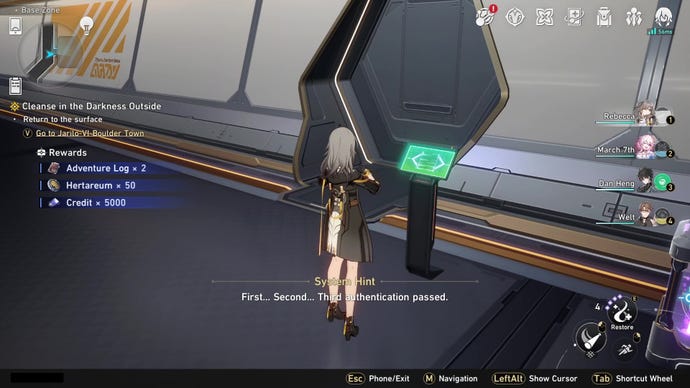 Inside the room you'll find a couple of Voidrangers from the Antimatter Legion — whom you can defeat in battle to receive Formidable Foe rewards — and a Precious Treasure chest containing a 4-star Light Cone (I got "The Seriousness of Breakfast" for Erudition, but it may be randomised) along with a few more standard treasure rewards.
For more handy solutions to tricky problems in Honkai: Star Rail, why not check out some of our other guides. We've got tips lined up on how to use Findie in Honkai: Star Rail and how to Superimpose 4-star Light Cones in Honkai: Star Rail.