Island Hopping: Battlefield 4 Multiplayer Footage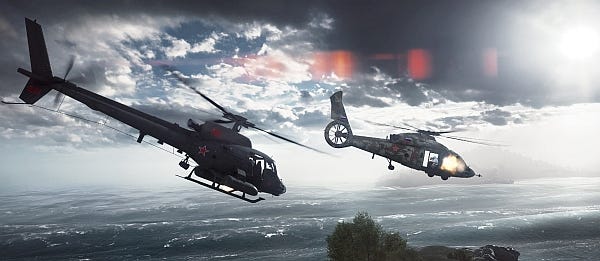 Watching this video of Battlefield 4's multiplayer, as an EA producer views a huge battle for control of an island chain, reminded me of how I used to play Battlefield 2: I'd stay after work at PC Gamer, along with Tom Francis and the quietly brilliant Steve Williams. We'd load up a 64-man map on the LAN and mess about for a couple of hours. We'd be recording all this, then we'd watch it back, laughing at the demo. We were so cool. There's an element of this in this narrated live recording of DICE's 'Paracel Storm' map: the camera zooms around, taking stock of the mayhem as it happens, flowing like an unfettered war photographer. I'm not really bothered about the game, but I might just buy it for the spectator view.

I'd use it to watch how people react to the dynamic map elements. That ship crashing in a multiplayer game will be quite the thing to see, and there seems to be plenty of smaller moments to take stock of too. Giant ships crash, windmills crumble, but I'm most excited about those escaping from a sinking ship in a jetski. When the weather starts whipping up a storm, it'd be great fun to follow one and see how they deal with the swells and blustery conditions. Those weather effects are lovely.
Oh, thanks to silly release schedule, Battlefield 4 is released in October and November. No oceans, please. The 29th and the first.