Lurid rooftop rampage High Hell is out now
Got your goat!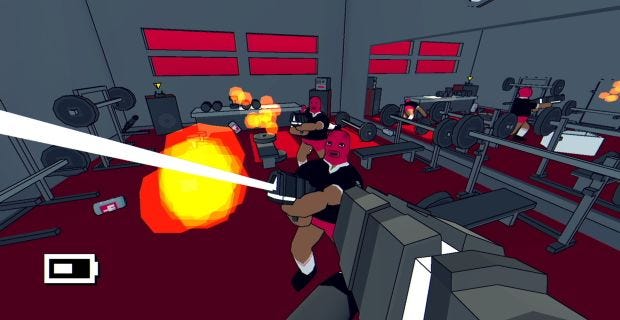 High Hell is a game that just screams Devolver. While the indie publisher may not produce much directly, they have curated a house style that is unmistakable. Lurid colours, offbeat (and often crude) humor, low-fi graphics and deep, bassy beats. Developed by Terri Vellmann of Heavy Bullets and with a soundtrack from rapper Doseone (Enter The Gungeon, Gun Godz, Samurai Gunn - he likes guns), High Hell is out now.
While I haven't had the chance to dive deep on High Hell (I received my copy just hours before launch), I've played enough to test the waters. It feels a little like a blend of the developer's previous high-stakes Roguey shooter Heavy Bullets blended with Hotline Miami and a very daft sense of humour, as you can see in the monkey and goat-laden trailer below.
It's pure, focused stuff. There's only one gun - a big pew-pew laser rifle - boasting pinpoint accuracy and unlimited ammo. Enemies can kill you in approximately three good hits, but shooting a bad guy restores a little bit of your health. Most enemy grunts die instantly, with heavier guards soaking up three hits. Enemy fire is telegraphed with both a warning laser-line and a spooling charge noise, giving it a lightly Time Crisis feeling. It's a simple game of shoot or get shot.
From what I've played so far (the first 12 levels, out of 20), High Hell seems to be a short n' sweet little arcade-themed thing designed to be replayed in search of the perfect racing line and high scores. While later levels do get somewhat longer, they're still short enough to be cleared in a minute or so in a single free-flowing rampage, Hotline Miami style. You rush in, kick in the doors, shoot everyone and jump off the rooftop to your next mission.
The game even has an achievement for completing the whole thing in under 20 minutes, and while goofing around in the first level, I managed to score an award for clearing the stage in under five seconds. After a few tries, I got it down to just over 3 seconds, putting me at the top of the leaderboard for that stage, although I fully expect speedrunners with hummingbird-like reflexes to stomp that before the day is over.
Given my SSD and the sub-700mb install size, I'd imagine that High Hell's loading screens are entirely arbitrary, but I don't mind. They're interactive and silly, and often thematically tied into the next level. Wiggle the mouse and click things and see what happens. My favourite so far features a ball pool, with every mouse click throwing an additional dead baddie or beach ball into it.
While I can't speak for its longevity, I must admit I've had a lot of fun with the hour or so I've played. I hope to finish my first run through the game tonight, and maybe even try getting another couple of world records, before the really talented players move in.
Update: Two hours later, my teensy tiny world record has been soundly beaten down into second place. Truly, the end of an era.
It's out on Steam or Green Man Gaming and will set you back £9/$10, with a launch discount knocking 10% off that, and throwing a free copy of Heavy Bullets in to sweeten the deal.