Magical mercantile JRPG Atelier Lydie & Suelle out now
Brewing up a storm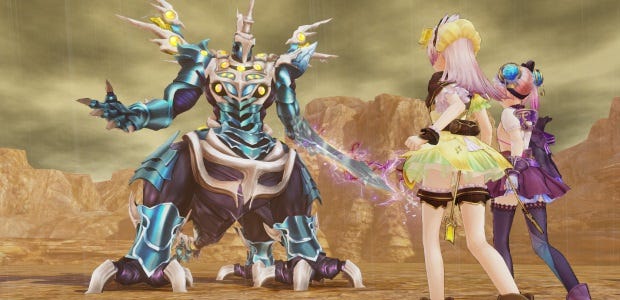 Fans of twee and exceedingly anime games are well served today. Recent years have seen Gust's 20-year-running Atelier series come to PC en masse, JRPGs that juggle traditional adventuring and dungeon crawling with puzzle-based crafting and shop management.
Today, Atelier Lydie & Suelle ~The Alchemists and the Mysterious Paintings~ (to give it it's full, headline-bloating title) is out on PC. The latest in the Atelier line and the last of the 'Mysterious' sub-trilogy which first made its PC debut early last year.
Silly high-fantasy fashion, pastel colours and the Power of Friendship are order of the day here, all glued together with a relatively traditional turn-based combat engine, and the Atelier series' less ordinary mercantile and crafting mechanics. It's two parts boilerplate, one part gaming comfort food for the Magical Girl Adventure crowd.
The story this time revolves around a gallery of magical paintings, stumbled upon by young alchemists Lydie and Suelle, sisters and co-owners of the local magical equipment shop. By travelling into the worlds within these paintings, they're able to gather rare and powerful materials to use in their crafting and potion-brewing, as well as fighting monsters to beat extra ingredients out of.
Monster-slaying and extradimensional travel being cornerstones of the game, things escalate quickly, and it looks like the protagonists of the previous two games join the party early on. The end result is larger-scale combat involving a tag-team of three heroes out in front, and the other three supporting, plus the new feature of mid-battle crafting adding even more options.
While initial reviews for Atelier Lydie & Suelle seem positive enough, it's hard to shake the feeling that this is a poorly timed release, coming in just days after the release of Ni No Kuni 2: Revenant Kingdom, which looks almost immeasurably higher-budget, with its own creative takes on both combat and management. While neither seem to be earthshattering, JRPG-redefining experiences, one definitely seems to have an edge here.
Atelier Lydie & Suelle is priced at £44/54€/$54 on Steam, which is admittedly a bit steep for the UK and EU, although in line with Koei's usual pricing. One additional note: Presumably to save money on localization, the game's audio is Japanese-only, although the text is obviously translated.