Myst studio Cyan are releasing their next first-person puzzler Firmament in May
Playable in and out of VR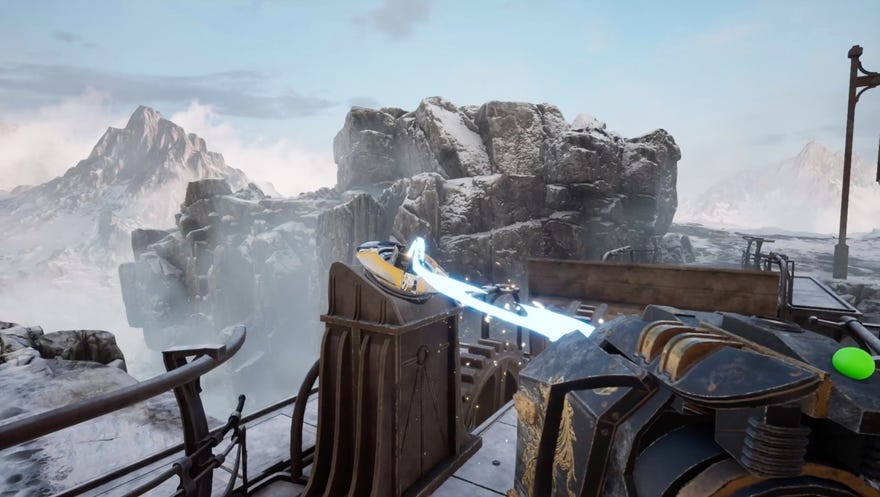 The first-person puzzler Firmament is releasing on May 18th, developers Cyan have announced. The studio behind the influential Myst first teased the game back in 2018, before turning to Kickstarter a year later to fund their steampunk mystery, and now it's ready for release, playable in both VR and "2D" - or flatscreen displays.
Anyone familiar with the studio's past work will know more or less what to expect going into Firmament. There's button-pushing aplenty, probably a room full of headscratchers, and a desolate setting to uncover. Of course, a new setting means new surprises, and Firmament will take you through three unique realms - that's a lot of surprises then.
Cyan say that you'll begin the game waking up in a glacial cavern, groggy and disoriented. Luckily, you can find a morning cup of tea on a lone table, but unluckily, there's also a dead body slumped over that same table. While you contemplate whether that cuppa is potentially worth dying over, a clockwork device, previously in the hands of the corpse, activates and presents you with a message. It's presumably the same device you can see in the trailer above, the one you use to shoot beams and activate the various gears, cogs, and steel doors throughout the world.
When Firmament was first announced, Cyan emphasised that hand gestures would play a large part in the game, letting you silently communicate with a hovering companion called The Adjunct. That steely face is missing from the newest trailer, although Cyan have confirmed it's still a notable presence throughout the journey. It's essentially an iron Navi, floating by and helping you with puzzles, only I'd bet it doesn't make as much noise. That wordless way of communication is one of the game's most interesting aspects, and I wonder how responsive The Adjunct will really be. A middle finger will surely trigger some kind of bespoke animation, right?
Firmament will be launching on PC via Steam on May 18th, playable both in and out of VR. The VR experience has many comfort features such as quick travel up stairs or ladders, and it includes both free roam and teleport modes for movement. If you'd like to take the trip on your VR headset, the game supports the Valve Index, HTC Vive, Oculus Rift, Rift S, and Quest 2. Firmament will also be launching on PlayStation consoles and PSVR later on.