Ori & The Blind Forest: Definitive Edition Out Wednesday
Emerge from the forest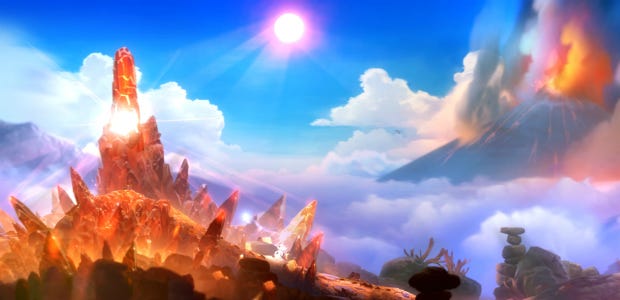 Although first scheduled to release alongside its console counterpart last month, Microsoft have now confirmed the gorgeous 2D platformer Ori and the Blind Forest [official site] will launch its Definitive Edition on PC next week. In fact it's so gorgeous that I think we should take a look at its latest trailer before we get onto what the Definitive Edition entails, don't you agree?
Good answer! Let's have a gander:
Lovely. Plenty to reminisce over, however the new version also promises to equip Ori with new skills by way of a dash ability and a projectile-type Light Burst, which you might've caught around the 1:06 mark up there. A new area in Black Root Burrows awaits exploring, and new story material offers players insights into mother character Naru's background. The game's theatre mode is also set to expand, adding new concept art, cut scenes and trailers, should that sort of thing float your boat. Oh, and it adds cross-platform saves between Xbox One and Windows 10 versions, which I'm sure you're all dying to use.
If you'd like to read more about what Ori and the Blind Forest is all about, let me direct you to Pip's Wot I Think. There, she praises its "lovely music" and "gorgeous artwork", and writes about how some of the game's trickier puzzles induced a "torrent of swearwords", while some its story brought a lump to her throat.
Here's developers Moon Studios on how Ori's Definitive Edition came to be:
"Immediately after the release of Ori and the Blind Forest, we heard cries from fans asking for even more content. Instead of 'just' releasing DLC, we decided to craft an entirely new package that includes both the new content as well as features that fans have asked us to add to the original game. We spent almost an entire year on this new release of Ori and the Blind Forest and hope that we have now delivered the ultimate 'Ori experience' for all of our fans out there!"
Ori and the Blind Forest's Definitive Edition is due for release on Wednesday, April 27th, costing $19.99 on Steam and Windows 10. If you already own the original version of the game, upgrading will set you back $4.99.