Overwatch celebrates birthday with new loot, game sale
Pass the parcel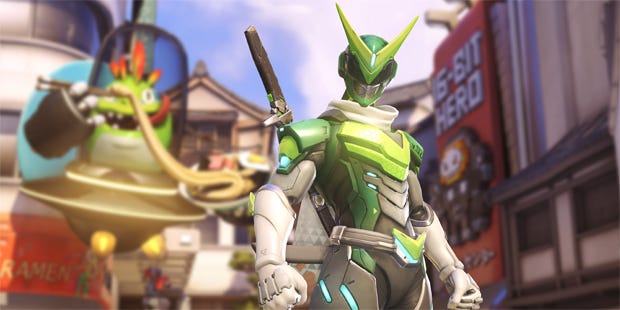 In case any of you were keeping an eye out for a price dip during which to pick up Overwatch [official site] there's one happening right now. It's part of a seasonal event celebration which is essentially a three-week birthday party for the game and involves a weekend trial and new digital loot like anniversary skins and three new arena maps.
I don't know about you but I definitely like to celebrate my birthday by spending the best part of a month sloughing off my old skin to reveal a shiny new look and some emotes. It's what we millennials do instead of jelly and ice cream nowadays. I also Instagram the whole thing, my iridescent scales falling photogenically into my flat white, the little buds of my newly grown ears peeking out from behind the old ones and ripening over a series of selfies...
Apparently logging in between 23 May and 12 June will get you one free loot box but obviously the rest of them are hidden away and must be paid for by spending time playing or by buying them outright is you fancy the bits and bobs within.
I've been having a look at the skins and I reckon if I still played Overwatch I'd be all about Mei's beekeeper costume because it is utterly and completely adorable and Zarya's robo-costume because it's Zarya and she is my main even though the point of the game is to not have mains.
If you've not Overwatching yet, Blizzard have you covered. The full game will be free to try from Friday through to Monday. The game is on sale until June 5th too. The vanilla version is $29.99 down from $39.99 (£16.99 from £29.99). There's a special Game of the Year Edition which launches today and costs $39.99 instead of $59.99 (£34.99 down from £44.99) and you can upgrade to the GOTY version for $9.99 instead of $19.99. Why might you upgrade? Well, it seems to me that it's about a) whether you want a loot boost and b) whether you've invested in other Blizzard games over the years. Y'see the GOTY version of Overwatch gets you a set of skins, some extra loot boxes and game credits but it also comes with digital doodads for their other titles - Hearthstone card backs, a baby Winston pet for WoW, Tracer as a character in HotS...
Anyway, I've made the official images into a gallery so you can peruse as much or as little as you fancy. Just click the arrows to move backwards and forwards through the galleries or use the arrow keys on your keyboard (that's my preference as it means you aren't caught out by the gallery's habit of jumping about!)