Overwatch Is Heading To Germany In A New Map
Uberwatch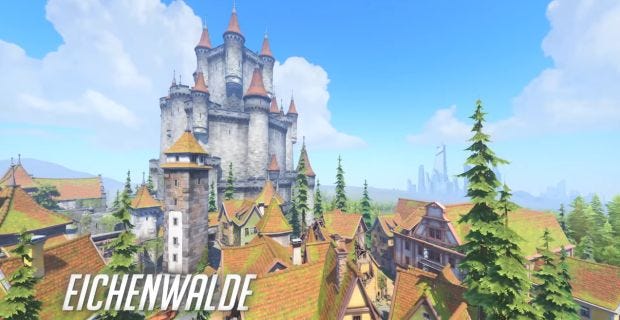 The heroes of Overwatch [official site] will be pummeling each other to bits in a German castle, Blizzard revealed today at Gamescom. The new map is called Eichenwalde, which the internet tells me is the word for "Oakwood". You can see a short preview of it (sans heroes) in this trailer they released, full of deserted streets and big wooden doors and intriguing throne rooms full of giant dead men with spikey weapons.
It's set to be both an assault and an escort map, with one team escorting a battering ram into the castle to reach the throne room, and the other putting up their defence, probably with six Torbjorn's. There's some of the universe's silly lore included, as this was the site of a famous battle between omnics (Overwatch's robot dudes) and humans. That's why there are so many robo-cadavers littering the alleys and cobblestones.
The revelation of the castle also confirms suspicions long held by Reddit data-miners, who have scoured the game files to discover voice lines and other tidbits. One of them discovered this line, delivered by Reinhardt, a month ago. "This is no castle," he says, "it's a tomb." Which makes sense considering the sight of that big dead guy in the throne room.
This won't be the last bit of Overwatch news this week, unsurprisingly. There's also a short for the hero Bastion coming out on Thursday, and probably more details about exactly when this map will become available. So look forward to that.