Party Like It's 1995: Gone Home's Music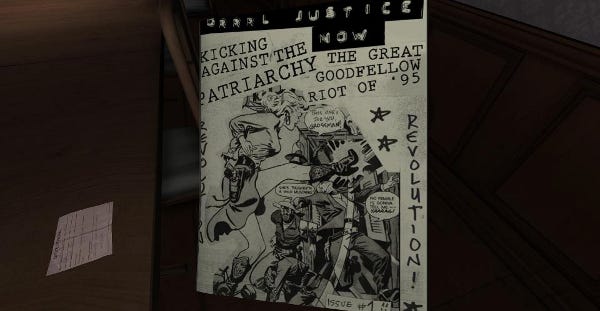 NINETIES CHILDREN ARE OVERTAKING THE EARTH. QUAKE IN FEAR OF THEIR LIBERAL NEW IDEAS AND NOSTALGIA FOR THINGS THAT MAKE YOU FEEL OLD.
For real, though, a new generation's filtering into the upper reaches of entertainment, and their formative influences are quite different from the cornerstones of even just a decade before. It's quite interesting to watch, and yet - for all the recent fascination with the oddities of Western '90s culture - we still haven't seen a game really embrace it. Gone Home, however, is unabashedly rooted in the decade of X-Files and alternative rock, and it's not just for cheap giggles, either. Having played a bit of the BioShock 2: Minerva's Den-borne narrative adventure myself last year, I got this sense that its characters and themes wouldn't really fit in any other time period. It's excellent, then, to see that Fullbright's going the extra mile in realizing the era's eccentricities. See (and hear) youth in Riot Grrrl-flavored rebellion after the break.
This isn't just feminist punk window dressing, either. Riot Grrrl music is actually a crucial plot point in Gone Home, as Fullbright explained:
"Gone Home takes place in 1995, and follows the story of Samantha Greenbriar, a teenager dealing with tons of uncertainty, heartache, and change. In the game, Sam is introduced to Riot Grrrl music by a friend, and it changes her life."
Without spoiling too much, I'll just note that the friend in question ends up at the heart of the story's central mystery, and things - at least, based on the portion I've played - get exceedingly interesting from there.
If you're interested, the bands involved are Heavens to Betsy and Bratmobile. You'll find their music on six-tracks throughout the game, because holy crap I was alive during an era in which it was utterly inconceivable that we could cram thousands upon thousands of "tracks" onto curvy pocket rectangles that also function as our phones, clocks, calendars, maps, game machines, and - in some cases - personal computers.
Ahem. Anyway, Gone Home will be out sometime this year. Do you plan on wandering through its abandoned (and very purple!) halls?