Podcast: The Electronic Wireless Show talks Pyre, Dream Daddy, and horror
Listen now or become a ghost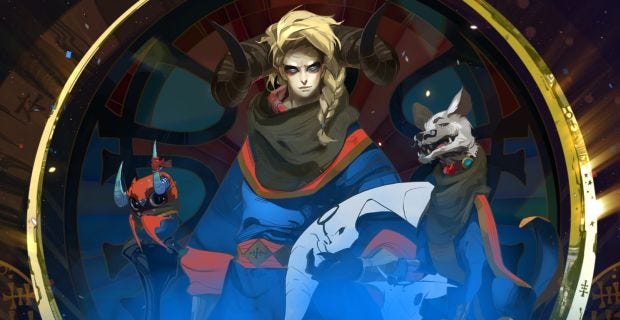 What's that unsettling white noise coming from the other room? Oh no, it's the 10th episode of the RPS podcast, the Electronic Wireless Show. This week, the gang are talking about horror in games (but not necessarily "horror games"). Adam and Brendan are terrified by the depths of Subnautica, which doesn't frighten Pip in the slightest.
But we also like playing non-scary things. Brendan has been competing in the purgatorial fantasy sport of Pyre, and Adam has been catching fish and watching tranquil sunsets in Yonder: The Cloud Catcher Chronicles. Meanwhile, Pip has been dating dads in the gay suburban utopia of Dream Daddy. There's also reader questions, in which we return to the subject of horror, and experience the shrill scream of a truly terrifying beast...

You can listen above, or go straight to Soundcloud where you can download it for later.
You can also get the RSS feed here or find it on iTunes, Stitcher or Pocket Casts. Non-scary music is by Jack de Quidt.
Want to write in with questions for a future episode? Now you can, to podcast@rockpapershotgun.com.
Links:
The 25 best horror games on PC
Subnautica is secretly a brilliant horror game
How do Alien Isolation's lockers work?
Yonder: The Cloud Catcher Chronicles review
Adam's wandering through Yonder
Pip is the new Dream Daddy in town
The terrifying "eagle" of text adventure Radical Castle