Project C is an MMO from the folks behind Dishonored, Thief, Half-Life 2
Dishonored and Thief folks are making an MMO.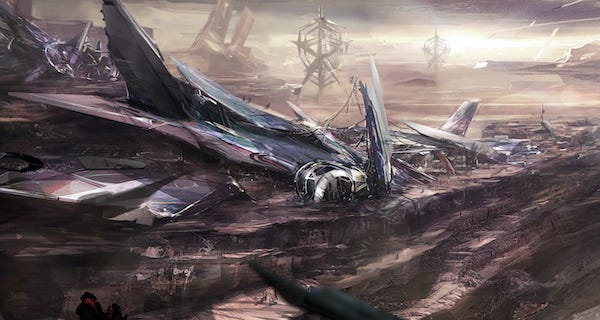 One of my favorite parts of getting a press release is getting a press release that doesn't reveal any information about the game itself. You get a vague promise about a game that might happen someday if some people get together. Normally, I don't give that much of my time. This announcement is different. There's a new MMO and the folks behind it represent some of my favorite games in recent memory. I think you'll be stoked on this too.
Darewise Entertainment is revealing their new massively multiplayer online game, code-named Project C. What we've been told is that there is an emphasis on "memorable gameplay moments" which is, admittedly, as flimsy as a press release can possibly be. But beyond that there is a virtual world, fully simulated ecosystems, and a system that acknowledges permanent choices. Sure okay cool. Here's what really matters:
Project C is creatively spearheaded by the visionary talents of Thief designer Randy Smith and Dishonored and Half-Life 2art director Viktor Antonov. The pair is supported at Darewise by a crew of industry professionals bearing considerable AAA experience across a number of world-renowned franchises.
Awwwwwww hell yes. Gimmie that game. Gimmie that game. Don't care that I have no idea what it is; come play the game with me.
An announcement video about Antonov joining the team is available here.
Previously, Darewise has released ROKH which was a survive-em-up Mars game we previously covered here.
Here's two images from the forthcoming mystery MMO.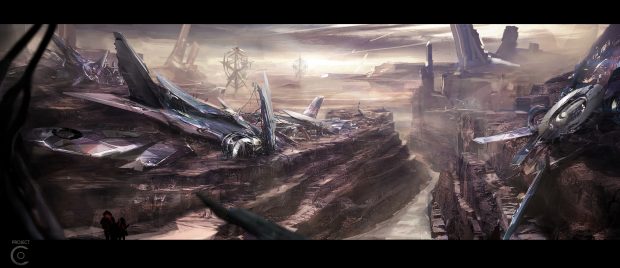 And here's a teaser image for the teaser name of the game. I.... I think we can do better than Project C and maybe we should get there sooner rather than later? Or who knows? Maybe that's the appropriate response.
So, yes, that all looks cool? I don't know. Sure. Lemme at that weirdo alien stuff.
Here's an image from the game's site which does a bit of showing off. I get it: you managed to get all of the most talented people from across the industry. Stop showing off. (j/k this lineup gives me The Thirst and I very much want to see where this goes from here.)
Darewise continues to grow, actively recruiting further first-class talent to make Project C, and many other exciting endeavours, a reality. Next to Randy Smith and Viktor Antonov, key members at Darewise have years of experience in the industry, including founder and CEO Benjamin Charbit (Assassin's Creed), executive producer Vincent Marty (Ghost Recon, Might & Magic), lead artist Bradley Jeansonne (Call of Duty, DOOM, Halo), system designer Rémy Boicherot (Mafia), lead programmer Aurélien Caussin (Ghost Recon) and technical director Samuel Kahn (The Division, Ghost Recon).
So yeah. I'm stoked on this. I love being excited for things that I have no concept of what they can even be. But I wish I could be a fly in this room to just hear all the good ideas gettin' pitched around.