Rocket League's Halloween event crashes into Stranger Things
Wrap your car in Hopper's jazzy shirt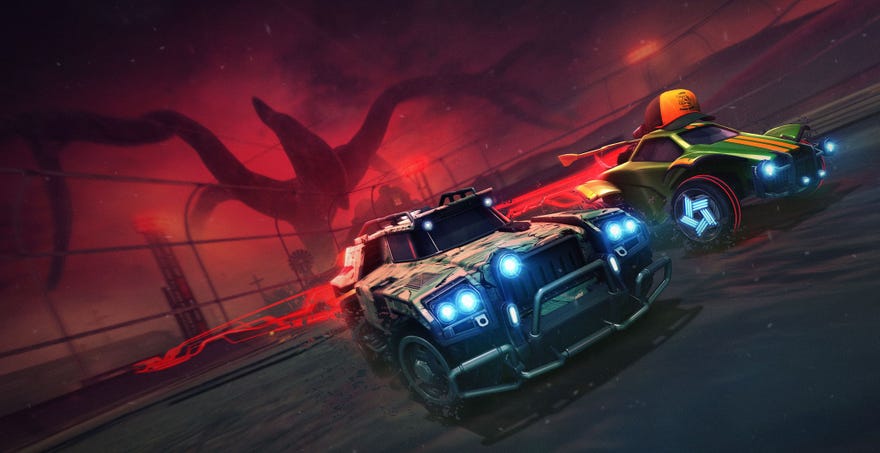 After a false start on Christmas, when advent calendars appearing on supermarket shelves in September, everyone has finally remembered it's Halloween season first. Rocket League has announced its latest Halloween event, this year crossing over with Stranger Things. Haunted Hallows will bring new cosmetic doodads inspired by the Netflix show's mock-eighties world, including a pattern inspired by Hooper's groovy shirt. It'll also let us play carball in the spookzone of The Topsy-Tursvy (which I'm told is called "The Upside Down" in the original American release?). That will kick off on Monday.
I quite like that Topsy-Turvy variant of the Farmstead map. I'm bored of the whole Topsy-Turvy thing (I'm far more interested in Stranger Things becoming a Scooby Doo romp starring Steve, Robin, Dustin, and Erica) but yeah, it's a good'un.
Haunted Hallows will reward players with Candy Corn to spend in the Event Store on special cosmetic bits. Along with Stranger Things-inspired bits like the shirt decal and a Camp Know Where cap, it'll sell generic spooky Halloween things. But most importantly, you'll be able to get this avatar border:
Yes mate.
Haunted Hallows will run from Monday, October 14th until November 11th. See the event page for more.
Stranger Things looks to be becoming one of those go-to crossover licensed properties. It's already smashed into Fortnite, Dead By Daylight, and Minecraft, so how long until Mortal Kombat is ripping the arms off the spunky kids?