Rollcage-inspired racer Grip adds online multiplayer
Vroom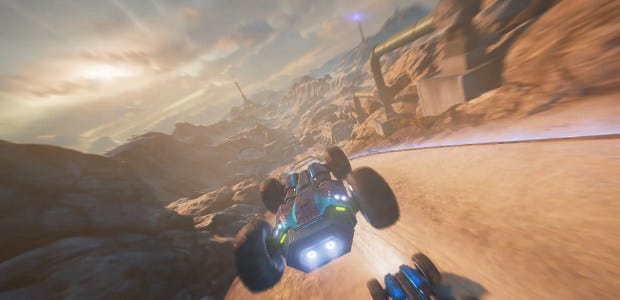 Online multiplayer has arrived in Grip [official site] with the Rollcage-inspired racer's latest patch pitstop on its journey through early access. Our boy Brendy Prematurely Evaluated Grip almost a year ago and was already quite exited by the future prospects of tumbling double-sided cars and futureraces. This here addition is a big step towards the full release, so that's grand. Here, watch these cars go fast:
Online multiplayer is the headline feature of today's update but not the only one. Also arrived today are a new car (the fastest so far, I'm told) and a new track (the most difficult so far, I'm told) and some driving model tweaks. The patch notes explain:
Improved vehicle handling, which allows for more natural drifting
Better vehicle stability and collision. Improved suspension model. Players should experience less general unwanted bouncing. Improved downforce calculation
I'm broadly in favour of anything which increases drifting. Heck, spray the roads with water on icy nights, go on. My window's high enough for me to safely enjoy watching cars drift inexorably into Leith.
Near-ish-future update plans include another new car, a new weapon, new tracks, and perks and progression in multiplayer.
To celebrate multiplayer's launch, a 20% discount on Steam brings Grip down to £11.99/15,99€/$15.99 for a bit. Last we heard, devs Caged Element planned to release the full version of Grip some time in 2017. It's perfectly fine if you'd rather wait for that.