Sea of Stars devs working on DLC and next game as throwback RPG sells a year's worth of copies in one week
Kickstarter campaign previously announced side adventure Throes of the Watchmaker
Sea of Stars developers Sabotage Studio have confirmed that they're already working on DLC for their warmly-received love letter to classic RPGs, along with their next standalone game. Helping them along the way is Sea of Stars' fantastic reception, which has seen the game sell a year's worth of copies in just one week.
Watch on YouTube
That incredible success comes via Sabotage's announcement on eX-Twitter that Sea of Stars has shifted more than 250,000 copies since its release on August 29th. That's apparently more than the studio projected for the game's first year. The game had already got off to a strong start by selling 100,000 copies on its first day.
Sabotage specifically said that the figure includes "copies sold", indicating that those playing it for free via Game Pass and PlayStation Plus Extra aren't counted - meaning the actual number of players could be a good bit higher.
We had projections for the first year, but it only took you all a single week.

Thank you pic.twitter.com/8c4zUtNeTq

— Sea of Stars (@seaofstarsgame) September 5, 2023
The news accompanied Sabotage's confirmation that they're already working on Sea of Stars' first DLC, with game director Thierry Boulanger telling Radio Canada (via Kakuchopurei) that a small portion of the studio will continue to work on the game while the rest gears up to work on their third standalone game after Sea of Stars and their 2018 debut, platformer The Messenger. The Messenger received its own DLC about a year after release in the form of summer vacation expansion Picnic Panic.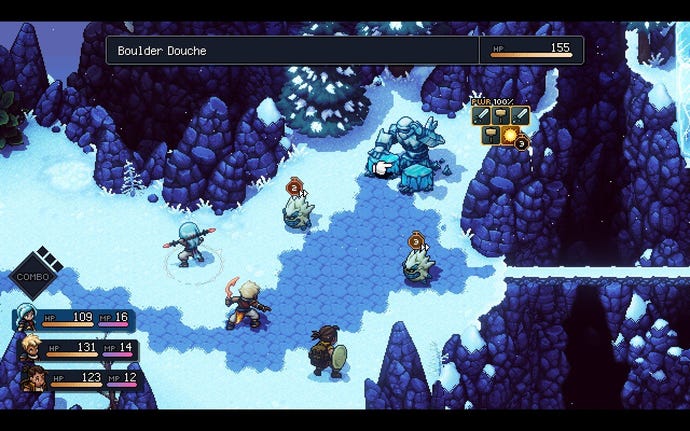 Sea of Stars' Kickstarter campaign unlocked a "side-adventure DLC" called Throes of The Watchmaker as a stretch goal during its successful crowdfunding run, promising to deliver the expansion to backers of the campaign for free.
The adventure is described as expanding on the world of Sea of Stars and promises to delve deeper into its connection to the universe of The Messenger. That same universe is implied to continue into Sabotage's next game (and all its games beyond that), too.