Sea of Thieves temporarily turns away new players to sooth server problems
Yarr :(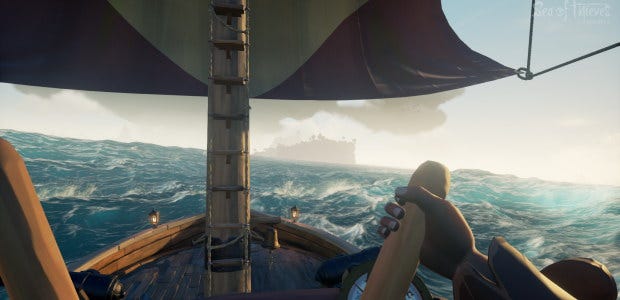 While half the RPS treehouse seems to be happily singing shanties and taking screenshots where the placement of their boat's steering wheel means they appear to be clasping a pegpenis, some players have faced stormier waters in Sea Of Thieves. Rare's open-world pirate 'em up launched yesterday, and was met with such an unruly torrent of pillaging hordes that the servers struggled to keep up, causing server problems. In the end, Rare temporarily stopped letting new players join the game. The game seems to be slightly more shipshape this morning, but not without problems.
Some poor soul scattered the bad news across the game's official Twitter account last night:
I'm still seeing players reporting problems with delayed or missing rewards and cheevos, lost money, and other issues.
If the game is giving you a bearded error message (KiwiBeard, CinnamonBeard, BronzeBeard, Ashbeard, AvocadoBeard, AlabasterBeard, AllmondBeard, CyanBeard, Beigebeard, DaffodilBeard, FluffyBeard, Lapisbeard, Lavenderbeard, Lazybeard...), check the support page's list of Beard Errors to help diagnose the problem. Yes, it is very twee, but I suppose those are easier to remember and look up than the usual blasts of error numbers and jargon stew.
Sea Of Thieves does seem a lark when you are playing, mind. Mostly. Ish. Fraser Brown wrote yesterday that it "is fun until you meet other pirates", finding the PvP ultraviolence everywhere got in the way of pirate adventures. I know our Alec will have more to tell us about the game soon too.
Sea Of Thieves is out now exclusively on Windows 10 for £50. You can play Sea Of Thieves free through Microsoft's Xbox Game Pass, which usually costs £8/month but does offer a free two-week trial. If you want to see what pirate life is about. Once these launch problems are settled, preferably.