Step into a Stanisław Lem sci-fi story with The Invincible's demo
Released during Steam Next Fest, still available now
A new demo invites you to marvel at a mysterious and alarming alien world in The Invincible, a video game adaptation of the 1964 sci-fi novel by Stanisław Lem (the Polish author also known for Solaris). It's basically Firewatch in space. I've not read the book but I did have a pleasant time strolling around shiny 3D space spaces while taking part in a BBC Radio 4 drama.
So, something bad happened to a expedition on a barren distant world, so off we go to find a missing crew, chatting with our boss (who's in orbit) over the radio along the way. Ha ha, oh dear.
Firewatch is certainly a huge influence. It's a lot of walking about, solving the mildest of puzzles, and chatting with someone over the radio. And like Firewatch, you can choose conversation options, little details and directions which might not change the plot but let you define your character's identity. I like that. It's quite slow but I enjoy looking at this sci-fi world and throwing a little improv into my sci-fi radio drama script. Good voices, too. Happy to listen to them chatter away.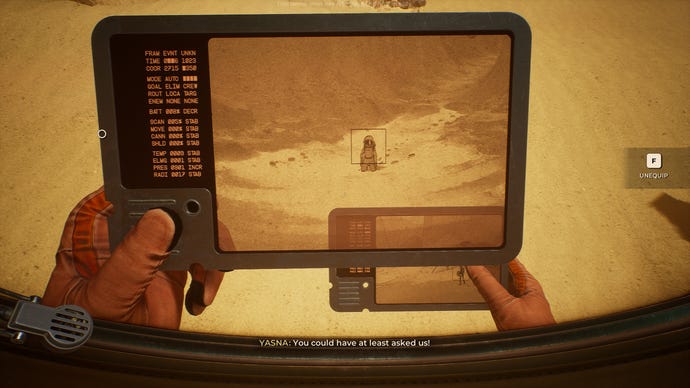 I really like the contrast between shiny 3D for the world and the hand-drawn illustrations which are meant to be photographs. Captures some terrible things in a wonderful way. I also really appreciate the tactile feel of this world. I want to stroke every surface, from shiny painted metal to the leather cushioning of a sample-carrying case. And I enjoy flicking switches and pressing buttons which look so solid I can imagine the amount of pressure it would take to turn this radio channel dial, and feel the ramping resistance it would take to cross the threshold between channels before it clicked over with a deep bump heard through my fingertips.
This new demo was released during the Steam Next Fest last month, and is still available from its Steam page. It contains a different section of the game to a previous demo. This demo's bit was previously seen in a gameplay trailer, and it was in the preview build Katharine played last year. I understand it's a bit spoiler-y, in that it reveals a core idea of the novel and the game and thereby will remove some of the mystery from the actual opening if you go on to read or play either. Or perhaps you're like me and have a head so brimming with garbage that you'll soon forget then only remember three minutes before it actually happens.
As marketing man Maciej Dobrowolski explained to Katharine last year, The Invincible "isn't a one-to-one adaptation" of Stanisław's novel. It's the same planet where the same events unfolded but it doesn't tell that story directly (Dobrowolski did hint that you might see some of the book's characters, mind). The game instead focuses on a supplementary crew created for its own story, which takes a more personal, emotional interest in the big space events.
The Invincible is due to launch in full later this year. It's made by Starward Industries and published by 11 Bit Studios.
While the latest Steam Next Fest is over, many of its other demos are still available too. We highlighted 14 demos at the start, then more over the following week.