The Division 2 is free to try in open beta on March 1st
An exercise in short Division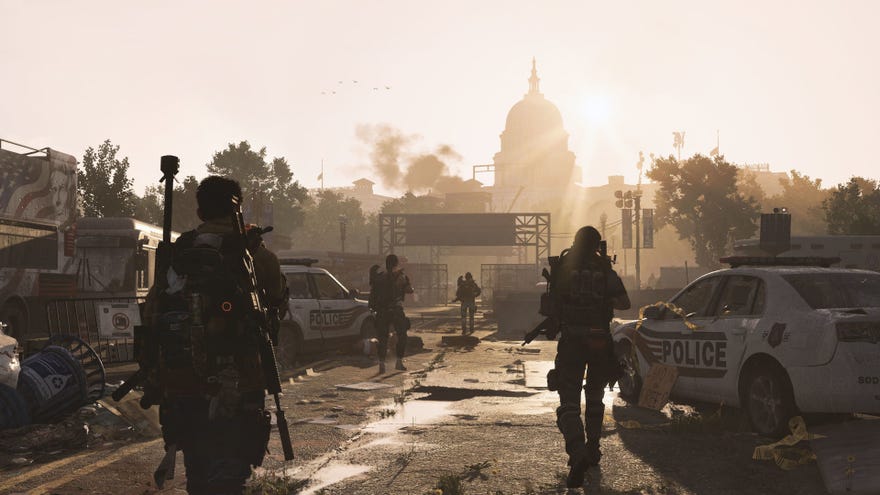 I missed out on the recent beta weekend for The Division 2. After hearing a lot of praise for the loot n' shooter from folks I trust, I'm glad I get another shot at it before launch - Ubisoft and Massive are opening their doors to everyone on Friday, March 1st. The free beta weekend will run until March 4th, hopefully giving the developers a few days to put out any last fires before it launches on March 15th. While there's no word on what events they'll be running during this free beta, I do hope it'll give players another peek at its endgame surprise. Some talk - and a video on that - below.
The recent closed beta weekend gave players a look at the 'levelling' part of the game, and what it'll be doing to extend its appeal past the end of its main story - introducing a new high-tech villain faction, Black Tusk. They've got robots (walking, flying and treaded) and their troops have cutting edge weaponry and beefy armour. They not only appear out in the overworld, but have taken over previously-cleared mission areas, providing fresh, randomised challenges plus some new story beats. It's a concept I've mostly seen done in fantasy RPGs before - Dragon's Dogma springs to mind.
It's the kind of feature that not every online game can get away with, but thanks to The Division 2 not really being an MMO and not having to worry about cramming dozens or hundreds of players into a single space, it can mix up what happens out in Washington DC. The high-stakes Dark Zones are also susceptible to being invaded by these high-powered jerks, also lifting level restrictions and loosening PvP rules in the process. When the big bads are out to play, players are free to be as cruel and cutthroat as they want to their fellow man. It's a genuinely clever way to double down.
The Division 2 launches on March 15th (Gold Edition people get in on the 12th), with the open beta weekend starting on March 1st. You can see everything else we know about the game, including system requirements and pre-order perks here, in an extensive guide by our man Dave Irwin.