Ubisoft: The Division Had "Biggest First Week Ever For New Game Franchise"
Multiplication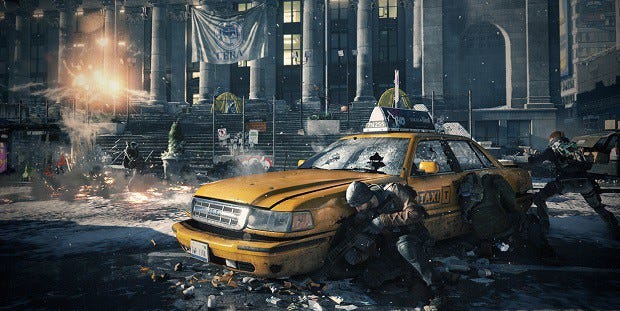 Before I started writing this intro, I thought about making some god-awful joke about Tom Clancy and maths, and sales figures and The Division [official site]. I then realised Graham had beaten me to it. In that post, however, Mr Smith wrote about The Division's impressive first day sales that set new Ubisoft records, as told by their company blog. Now, it seems The Division has broken yet more records, netting an estimated $330 million globally in its first five days - the "biggest first week ever for a new game franchise," according to the publisher.
The latest Ubisoft Blog post also reports that concurrent users hit record peak levels of 1.2 million players over the course of last weekend, and that players clocked over 100 million hours roaming around the dystopian Manhattan streets in the game's first week of release. When Graham checked the somewhat reliable SteamSpy data service last week, The Division appeared to have around 250,000 owners on Steam. That figure has since more than doubled.
Speaking to the numbers, Ubisoft's CEO and co-founder, Yves Guillemot, said:
"The Division taking the top spot in the industry for first-week sales of a new franchise is a tremendous achievement. We are very proud of our teams, and humbled by and thankful for the millions of players who are giving us their feedback and support.

"The Division is the latest example yet of our unique ability to deliver immersive gaming playgrounds that keep players engaged, and that they eagerly share with their friends and community."
As for Steam concurrent users, SteamSpy reckons this number reached just shy of 114,000 players last weekend. Given the fact that The Division is a multiplayer game, these statistics bode well for its longevity, as future support will be hinged on the number of returning players to its virtual battlegrounds. Graham and Adam spoke at length recently about why they've enjoyed their time in post-apocalyptic New York thus far, and Brendan mostly enjoyed his time for reasons discussed in his review.
In any event, these figures are impressive. "On top of record-breaking sales, player engagement is the highest ever for any Ubisoft title, demonstrating, among other things, that our investments in our online infrastructure and services are paying off," said Stephanie Perotti, Ubisoft's vice president of online services. "We are delivering an online experience that's on par with the best in the industry, and that matches the quality and connectivity demanded by The Division and its players."