THQ Nordic buy the studio making Biomutant
The cutest post-apocalypse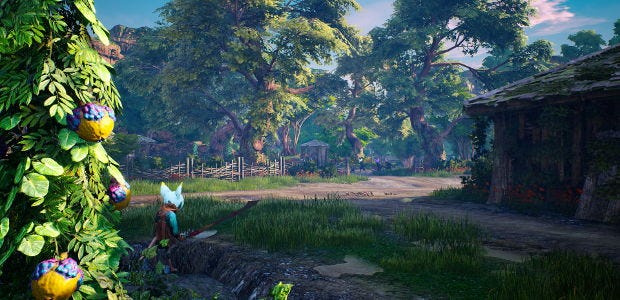 The cutesy Biomutant raised a few eyebrows after its announcement during Gamescom in August, enough that THQ Nordic have gone ahead and bought the studio making it. THQ Nordic were already publishing Biomutant, and now they own both the post-apocalyptic open-world action-RPG and developers Experiment 101 too.
THQ Nordic announced on Friday, plain and simple, that they had "acquired 100% of the shares from Experiment 101 AB, as well as the intellectual property of Biomutant". Alrighty then.
Due to launch some time in 2018, Biomutant is an action-RPG starring a cute critter in a post-apocalyptic world who gains powers through physical mutations - claws and tails and psychic powers and bits. That's what tends to happen when you lick barrels of radioactive waste. And it has kung fu and crafting and jetpacks and wings and... it's doing a lot. It might be interesting. THQ Nordic seem to think so.
See it for yourself in 25 minutes of action from the Ian Games Network in September:
A small reminder: THQ Nordic are not THQ. That American publisher is dead and buried, shut down in 2012, then Nordic Games later bought a lot of THQ's clothes and furniture in the house clearance sale - including the rights to their name. Nordic Games have also picked up bits from JoWooD Entertainment, Atari, and others over the years. But since 2016 they've called themselves THQ Nordic. Get it? Got it? Good.