Unofficially Micro Machines: Toybox Turbos
Toy car racing with a demo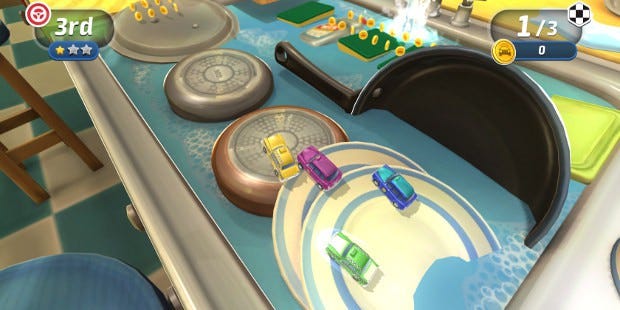 It might not be called Micro Machines, but Toybox Turbos is clearly Codemasters following up on their vintage top-down toy car racing series. Taxis and buses race around kitchen tables, ramping off slices off cake, popping up out of toasters, skidding on spilt milk, and taking a shortcut through a drying rack, oh, it's so very Micro Machines. It seems quite pleasant too. Toybox Turbos launched yesterday, and a demo's out too with a fair few tracks to zip about on.
If you played Micro Machines, you'll get the idea: toy cars race around bright everyday environments, dodging hazards like sinks and spinning mixers and ramming other players into them. Driving's arcadey and forgiving, obviously, but doesn't feel floaty as these games often can. It's picked up a few tricks since the mid '90s, with weapon pickups like mines, machineguns, and a magnetic grappling hook.
The demo has four kitchen tracks across three modes, as well as local multiplayer for up to four. Unable to rope in a flatmate, I played the demo against AI and still had fun, even though it'll clearly be at its best went when racing your chums. It's fun. I enjoyed it. I had fun - more than I remember having in Micro Machines, if I'm honest, as analogue sticks work so much better than d-pads for racing.
Toybox Turbos is on Steam for £11.99, or £35.97 for four copies. The demo's over on Steam too.