No news is goose news
Honk honk!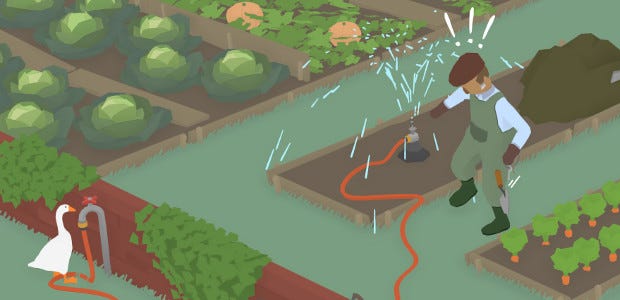 One of the most hotly-anticipated games was not, you might have noticed, on show at E3. Where was it? Is it okay? Should we worry? Are our dreams dashed? What am I supposed to do now? How could this happen to us? Is this what we deserve? Steady on! Relax. Breath in, hold for two, and out. It's fine: Untitled Goose Game is still coming.
One can only imagine that developers House House (who previously made Push Me Pull You) have been constantly interrupted this past week by well-wishers bringing them soup, Lucozade, and grapes, assuming that they'd fallen poorly. Don't worry! Here, take a breath and watch that wonderful 2017 announcement trailer again:
I cannot stop laughing at this absolute bastard of a goose. It's a stealth game, obviously, but one starring terrible waterfowl which disrupts, bullies, and robs innocent villagefolk to serve its goosey machinations. In this video, the goose is largely arranging a picnic for itself - but also spitefully ruining a few things. Wonderful.
But what's the news? The lads of House House tweeted today:
hello everyone, this is a quick tweet just to say:
• we're alive
• we're quietly working hard on the goose game
• we don't have any news that we can announce right now
• but we will soon
• and we're very excited about it
• thanks

— House House (@house_house_) June 15, 2018
That's good enough for me. RELAX!
This is my final news post of a 12-day working week which has included two 5am finishes so I'm posting what makes me happy, and what makes me happy is that goose. See you in hell!
Disclosure: I'm... I wouldn't say I'm friends with the House House lads, because I don't know if one of them will ever forgive me for squeezing a great glob of mayonnaise into his mouth, but I do know and like them and have shared an Airbnb with them. But really, that mayonnaise play, just disgraceful. I was not polite about it either.