Best Gallo SA12 loadout and class setup in Warzone
The Gallo SA12 attachments you should be using.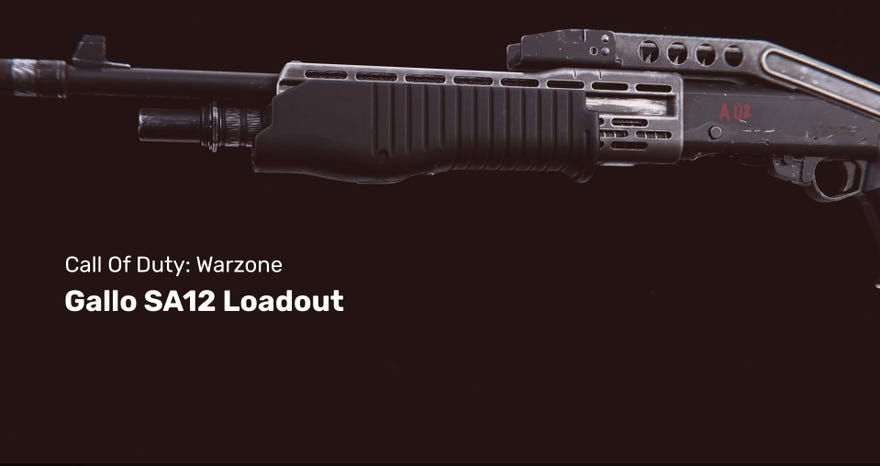 Are you a shotgun user in Call Of Duty? Do you like to get up close and personal in Warzone and zam your opponents in the face with a million bullets at a time? Well then, the Gallo SA12 might just be for you. It's semi-automatic, super powerful, and offers a great time-to-kill at the right ranges. So then, here's the best Gallo in Warfare Pacific.
---
On this page:
Best Gallo SA12 loadout in Warzone
Is the shotgun meta returning? Who knows. If it does though, this Gallo loadout is probably going to be one of the more popular weapons. Unlike our recent primary weapon loadout guides, this one has just a single Gallo loadout. This is because shotguns aren't particularly versatile at the best of times, so instead of building two separate kinds of Gallo SA12, I've just put together the very best one.
Muzzle: Agency Choke (Level 31)
Barrel: 21.4" Reinforced Heavy (Level 15)
Laser: Ember Sighting Point (Level 33)
Stock: No Stock (Level 25)
Ammunition: STANAG 12 Rnd Tube (Level 23)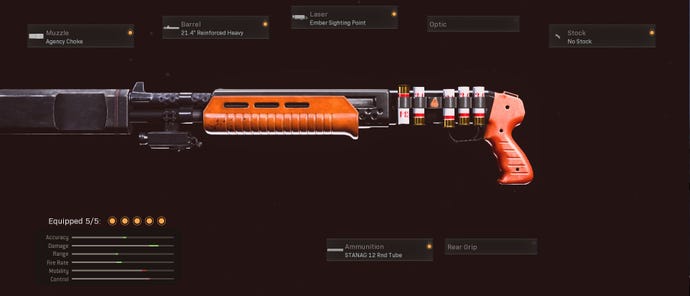 It's important to understand what you should be using your Gallo for with this loadout. Your range, whilst improved by some attachments here, is never going to be impressive. Even SMGs can beat you out at anything outside of a few metres. However, where you thrive is when you're extremely up close and personal. The Gallo can chuck out damage ludicrously fast, and the 21.4" Reinforced Heavy barrel boosts both range and fire rate even further. As long as your trigger finger is speedy enough, you'll be firing absolute cannonballs.
A similar story is true for the Agency Choke, which offers a whole bunch of boosts including silencing, range, and bullet velocity. Of course, you'll want to cut the loss of ADS speed and stability, and we'll get onto that with future attachments.
Even further increasing your range is the Ember Sighting Point, which also boosts your hipfire accuracy for those times when you don't have the chance to ADS. Again, your mobility is hindered, but the No Stock attachment is absolutely golden for sorting that out. Your sprint to fire time is probably the most vital aspect to your shotgun, and No Stock makes that way, way better. Again, hip-fire accuracy is a hindrance, but if you're aiming down your scope and hitting your target with a quick trigger finger, that won't be an issue.
Lastly, chuck on the STANAG 12 Rnd Tube magazine. Shotguns reload slowly, so having more in the chamber ready to shoot off is vital, especially in squad-based modes.
---
Secondary weapon
Shotguns are largely kitted out for close-range combat, and the Gallo SA12 is no different despite its numerous range-increasing attachments. So then, definitely go for a secondary with Overkill that'll help you with enemies from over 10 metres away. I'd personally go with the CR-56 AMAX, since it offers a huge amount of damage at longer ranges, but feel free to get out a Grau 5.56 or M4A1 if they float your boat more.
Of course, if you're not using Overkill just grab a pistol like the Diamatti or a launcher like the JOKR. You'll likely be ditching them anyway.
---
Best Gallo SA12 loadout with Perks and Equipment
This class' Perks and Equipment can be really important, and we're going with something a bit different this time:
Perk 1: Double Time
Perk 2: Overkill/Restock
Perk 3: Tracker
Lethal: Semtex
Tactical: Stun Grenade
Double Time's increased mobility and movement speed is really important when you're running about flanking enemies with your Gallo. It's also easier to relocate around the map using your tactical sprint, making this loadout specifically benefit given that you want to be flanking and blasting enemies up close.Tracker is a slightly left-field pick too, but with it you'll be able to keep track of enemies attempting to flee your advances by seeing their footsteps on the ground. There's no getting away from you now.
The real left-field pick here is Restock. Considering the prevalence of Ghost, it might not seem like the smartest idea, but using your equipment to flush out enemies and get the drop on them can win you so many gunfights, especially if those options are available to you constantly.
Speaking of equipment, what should you be using? Well, Semtex can chunk down the enemy big time and take your 3-shot kill range down to 2-shot. Similarly to with the Tracker perk, Stun Grenades can absolutely ruin the lives of fleeing foes, and once again having them restocked each fight is such a bonus with the Gallo shotgun.
---
How to unlock the Gallo in Warzone
It's a pretty easy unlock, but might take a bit of time if you've only just got your hands on the game. All you need to do is level up to rank 34 and the gun will be available in your Edit Loadouts menu.
---
There you have it - a fine Gallo SA12 loadout for you to take into Verdansk! If shotguns aren't for you though, don't fret. We have the best Warzone Assault Rifles and best Warzone loadouts in the entire game for those of you not convinced by the Gallo's potential to hit you like a furious gorilla.