Cyber Monday 2021 Razer deals: all the best deals on Razer mice, keyboards, headsets and laptops
Find all the best Cyber Monday deals on Razer PC hardware right here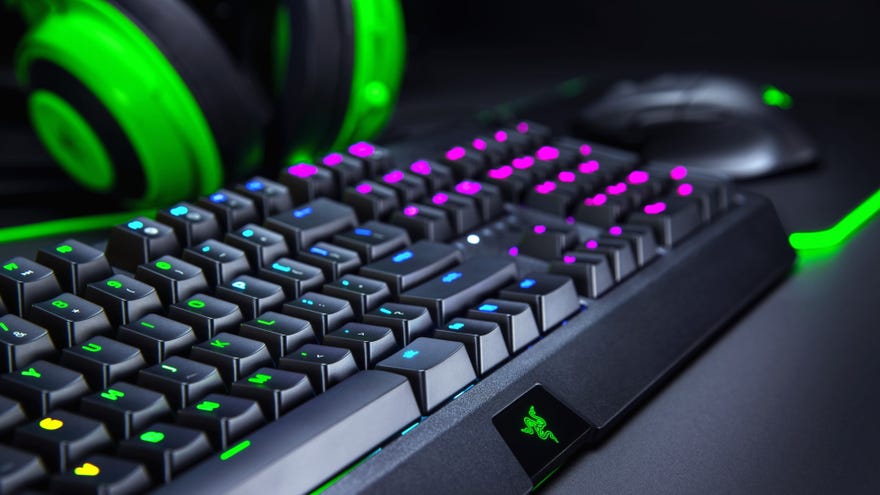 Cyber Monday is here and with it comes some great deals on everything black and green. If you missed out on getting a new keyboard, mouse, headset or a laptop over the past couple of weeks, there's still time to pick one up on the cheap.
I have it on good authority – yours – that RPS readers can be partial to some black'n'green kit, like the Razer Deathadder mouse that came second only to the Logitech G502 in our recent hardware survey. I'm partial to their Basilisk mice myself, but there are oodles of peripherals, headsets, and laptops to choose from in these hazy days of sales, so click the links on the right to find what you're looking for.
Of course, if you want to see what other Cyber Monday PC gaming deals are on offer, be sure to check out all of our regularly updated Cyber Monday hubs:
---
The best Cyber Monday Razer gaming mouse deals
---
UK deals:
---
The latest version of Razer's classic gaming mouse, the Deathadder V2 is better than half price right now.
Razer's Basilisk V2 is another top notch gaming mouse, and a great alternative to the Logitech G502 Hero if you're a fan of thumb rests. It doesn't come with any weights, but you get the same number of customisable buttons and you can also change its scroll wheel resistance, too. During last year's Black Friday is was £38, so just think of what those extra three pounds could buy.
The wireless edition of the ambidextrous Razer Viper. We love the wired version, and this is basically the same sans cable - though note that this particur listing doesn't include the optional charging dock.
---
US deals:
---
Razer Deathadder V2 - $40 from Best Buy (was $70)

One of our favourite gaming nice and a general all-round crowd pleaser. Slick, responsive and a top-tier mid-level gaming mouse at a bargain price.
An even better deal than in the UK, this one knocks 56% off one of the most comfortable and customisable mice around.
This mouse was sticking well above the $100 mark for much of last year, so to see it frop to neartly half price is a welcome change. This is, after all, a highly comfortable, high-performance ambidextrous mouse that's lightweight despite the internal battery.
---
The best Cyber Monday Razer gaming keyboard deals
---
UK deals:
---
The Ornata V2's mecha-membrane switches combines the clicky, mechanical feel of a high-end gaming keyboard with a quieter keystrokes of a membrane model. They strike a good balance if you're not sure about going full click-clack with a proper mechanical keyboard, and this one also gets you a comfy wrist rest, too.
Razer were quick to jump on optical-mechanical keyswitches when they first appeared; if you're unfamiliar, these use light sensors to send each actuation signal, so they're even faster than conventional mechanical switches. The entire Huntsman range implements them well, and this tenkeyless Tournament Edition model has both an appealing price and a more compact design.
The Huntsman V2 Analog develops its optical switch tech even further with analog keys: instead of having simple on-off states, the switches can detect how much light is passing through for more gradual, granular control. At this price its still something of a luxury, but there's no arguing with the size of that discount.
If you can go without fancy optical trickery, the BlackWidow V3 is a good ol' fashioned mechanical keyboard. Sadly no longer quite as steeply discounted as it was a few days ago, but still cheaper than usual. This model uses Razer Green switches, which through a clicky sound and tactile bump are similar to the more widely-used Cherry MX Blues.
---
US deals:
---
Our top pick for those after a great value membrane keyboard, the Razer Cynosa Chroma's responsive keys are about as close as it's possible to get to a mechanical keyboard without the real thing (or opting for a more expensive hybrid model). An absolute bargain at this price.
A lot of US deals on the bigger Huntsman variants aren't all that great. This is one of the better ones: $40 off the hyper-compact 60% model, which still uses the high-speed optical switches and lops off the function, navigation and arrow keys to give your mouse more room on the desk.
The price of Razer's most straightforward mech board has been creeping downwards since summer, before lurching to this low point for Black Friday week. As with the UK deal, it comes with Razer Green switches - quieter Yellow switches are also available, but only for a barely discounted $133.
---
The best Cyber Monday Razer gaming headset deals
---
UK deals:
---
This isn't the best-sounding of Razer's headsets, but it's very affordable and - like other Kraken X versions before it - particularly light on the old noggin.
Another comfy Razer headset, with vastly superior sound to the Kraken V3 X. Note that although Currys list the previous £80 price as ending all the way back in June, it was in fact £65 off as early as last week – so you're essentially getting an extra £10 off for Black Friday week.
Amazon recently had this down to £109, but Currys have Jeff and co. beat this time. The headset itself is basically just a wireless take on the BlackShark V2, so was always going to be a good headset even if it's more expensive.
The Razer Nari Ultimate is currently the same price as the Razer Nari Essential, which is the same headset with fewer features, so it's worth looking at the Ultimate this Cyber Monday. It has Razer's HyperSense haptic feedback tech, which Katharine found surprisingly impressive.
---
US deals:
---
Razer's ultralight gaming headset has dropped to $50, although keep in mind that the original Kraken X once hit $33.
Another patience-rewarding headset: the BlackShark V2 was $80 a week ago, then shot up to $100, now is back down to its lowest price in month. A fine deal for a very fine wired headset.
Amazon are offering an unusually sizeable saving on the Nari Ultimate, one of Razer's headsets with HyperSense haptic feedback. Even Razer's own site is making a relatively stingy $20 discount, so keep an eye on this one if you want your audio with a faceful of vibrations.
---
The best Cyber Monday Razer monitor deals
---
UK deals:
---
The Razer Raptor 27 is a peculiar gaming monitor, what with its giant sloping stand and flat green cables, but also a very good one on the strength of its 144Hz IPS panel. Considering how costly it can be, £520 is downright reasonable.
---
US deals:
---
Razer have the current best price on their own monitor in the US too. It's worth considering if you want some extra cable tidying and addressable RGB in your setup.
---
The best Cyber Monday Razer gaming laptop deals
---
UK deals:
---
Gaming laptops have (thankfully) been getting thinner, and none so much as the wonderfully portable Blade Stealth 13. This is the best price I've seen for the listed spec, and while it won't blaze through every modern game at 60fps, it will handle most just fine. Stock looks low, mind, so make your mind up quick.
A step up from the Blade Stealth 13 on performance, while maintaining a relatively svelte frame. Even with the older 10th Gen chip, the GTX 1660 Ti will have a fair crack at most games at 1080p.
Despite this having a smaller screen than the Blade Pro 17 above, it's perhaps closer to emulating a modern desktop setup. The Ryzen 9 CPU and RTX 3070 GPU make a fearsome combination, and the 1440p resolution will look noticeably sharper than any 1080p laptop screen.
---
US deals:
---
It's Razer themselves that can claim the best Blade Stealth 13 deal this Cyber Monday. Don't expect to blast through everything on max settings, but there's a very respectable amount of power here for such a thin and light laptop.
While it's a lot pricier than the Blade Stealth 13, the Blade 14 is only marginally chunkier - and besides, the calibre of its components means you're getting a drastically more capable games machine.
Gosh, crumbs and, indeed, crikey: that's a lot of money off. Not many gaming laptops will give you this much performance potential (even if the GPU is last-gen) for similar cash, and even fewer will do so with the sleek design of Razer's Blades.