Captain Forever Remix Ft. Deano T & B-Chain [Danny B Cut]
REMIX, REMIX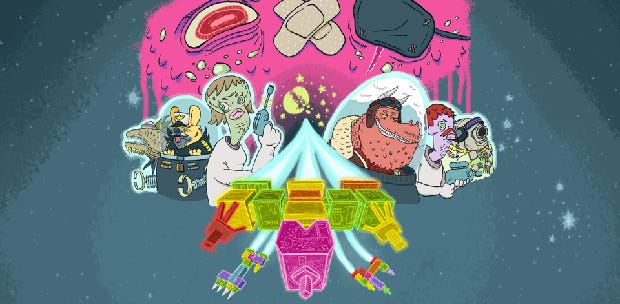 The song remix: giving us banging new takes on songs we love, banal 'club remix' filler for singles, and sometimes smashing the original to pieces. Game remixes are a bit more rare but we have had some real wonders like Pac-Man Championship Edition DX (not forgetting the unofficial squillions made by indies who carefully dodge copyright infringement). Now Pixelsaurus Games have announced Captain Forever Remix, an "officially-licensed reimagining" of Farbs's fine ship-building space shooter Captain Forever. It's ace source material, but what's the remix mixing up?
Artist Dean Tate explains:
We want to stay true to what made the original game so amazing (basically, being a bad-ass space Captain who makes their self-designed ship more powerful by stealing parts from enemy pilots), while adding our own flavor to it: you'll meet weirdo spacepunks, discover mysterious star constellations, and get to experience a whole bunch of new ways to play the game.
Captain Forever was quite minimalist, with the dear Captain wandering a round a black void, blasting away at everything that moved, and building their ship out of line art engines, guns, and boxes. The Remix sounds a little less barebones, and well, just look at that artwork!
Pixelsaurus have an interesting team assembled for the remix. Tate was a designer on BioShock and Harmonix's boogy 'em up Dance Central, while programmer Brian Chan was a designer on Rock Band 3 and open-world destruction simulator Mercenaries 2: World in Flames, and music comes from Danny B of Super Meat Boy fame.
If you'd like a taste of how it might play, try loading up Captain Forever (free to try in your browser), beatboxing a repetitive booming bassline, and shouting "Remix! Remix!" in the middle of every battle. Rubbish 'club remixes.'