Diaries of a Spaceport Janitor Cleans Up For Release
Pick up that can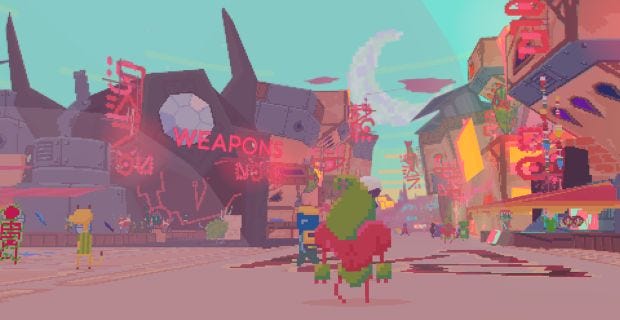 Diaries of a Spaceport Janitor [official site] made Alice swoon at the idea of cleaning up rubbish in a colourful and bustling spaceport. That's probably because it looks like a brighter and happier Bernband. Well, good news for Alice and anyone else in love with the creator's gifs – it's coming out next week. Come see what if looks like in motion.
You'll play as an alien girlbeast who has a "municipally-subsidized trash incineration job" on the planet of Xabran's Rock. You dream of one day leaving it all behind. Your days are spent getting lost in the alleyways, plazas and streets of the port city, while finding trash to incinerate and food to eat. It looks like you'll also be able to gamble at the bazaar's "lottoshrines". But the developer, Sundae Month, is also dropping hints of a grander "anti-adventure" prompted by a floating skull that starts to follow you everywhere.
Suffer the Curse! Stick your scentflaps where you shouldn't, and you may just walk away with an ancient cranial entity haunting your every waking moment! Consult local Necresses, pray to the Nine Goddesses, purchase ritual objects, and rub the giant sword to balance your personal luck favorably! Maybe that will make the whispering stop!
It looks very pretty, doesn't it? I haven't wandered about in a labyrinthine futuristic city that looks this colourful since else Heart.break(). And I love when games recreate the feeling of walking through a busy market in a strange, foreign land. Who else is looking forward to picking up some litter?
Diaries of a Spaceport Janitor is coming out on Steam and itch.io on September 16.