Doomfist now deep into Overwatch
He's finally here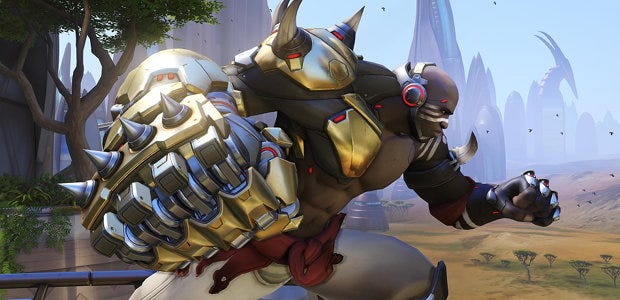 Doomfist is now fully, properly, really inside Overwatch [official site]. For ages the character has teased Blizzard's FPS, with hints and traces and teasers buzzing past, as if he were waving his robofist in our face while repeating "Is this bugging you? I'm not touching you. Is this bugging you?" Earlier this month, he upgraded to "I'm just holding my fist here and if you walk into it that's your fault" status by arriving on the test servers. And yesterday, Doomfist finally slammed into our faces, splitting our lips, splintering our teeth, tickling our tongues, and keeping on down into our guts. The patch officially adding the villainous new character to Overwatch is now live, I mean.
Doomfist is the leader of Naughty Boys, the rabble who want to kiss the Goodie-Goodies but instead pull their hair and push them off the payload.
His abilities revolve around his robofists. He packs knuckleguns, can slam the ground to draw people in, uppercut to fling them up, rocket punch to knock people back (taking bonus damage if they hit a wall - a nice touch), and jump up then leap down as a human meteor. That's a pretty great set of thematic abilities for someone named Doomfist. I am impressed. A wide range of moves sharing similar ideas and all powered by forms of punch.
The update adding Doomfist also boshed in the ability to directly export highlight video clips, as well as to manually capture your own highlights. It also tweaked balance, fixed bugs, and so on.
Read the patch notes for full details on everything.