Doomfist punches into Overwatch proper next week
Bam! Bif! Pow!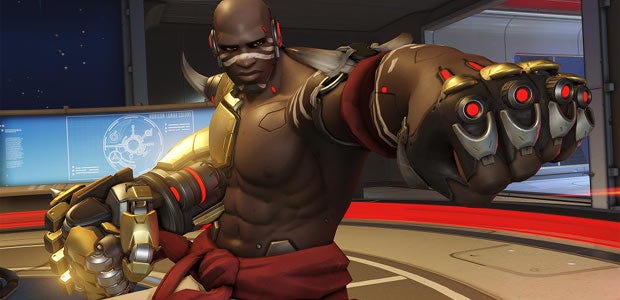 After several weeks beating the bag on the Overwatch test servers, new character Doomfist is almost ready to start pounding faces properly. The villain will arrive next Thursday, July 27th, Blizzard announced this week. If you prefer not to tamper with test servers and unfinished bits, you might want to meet Doomfist in this here video:
He's got robofists, yeah? Mechanical uppercuts, rocket-powered fists, knuckleguns, and beefy slams. Learn a little more about his abilities on the Overwatch site. Sadly, the gun barrels eat the space where he might have some swanky knuckle tats. If he weren't so committed to naughty violence, he could show his team spirit with PUSH PYLD, stick it to The Man with HECK OWCH, or dare to dream with KISS TRCR.
For those into the lore, Blizzard have released a new comic starring Doomfist. Blizzard want you to notice that he is a calculating criminal mastermind with a plan he won't tell even his allies. I myself noticed that Overwatch's baddies have a great dressing-up box. Talon must have a lot of fun putting on little plays and performances at their evil clubhouse. I'm sure I've seen a cabaret performer resembling Widowmaker singing bawdy songs with her accordion at the Edinburgh Festival.
If you've been biffing about the test servers, what have you made of Doomfist? Blizzard have fiddled with him a bit since he first hit, as detailed this-a-way.