Dragon Age writer's musical RPG Stray Gods has an August release date
Look! It's Ellie, Joel, and Abbey on Broadway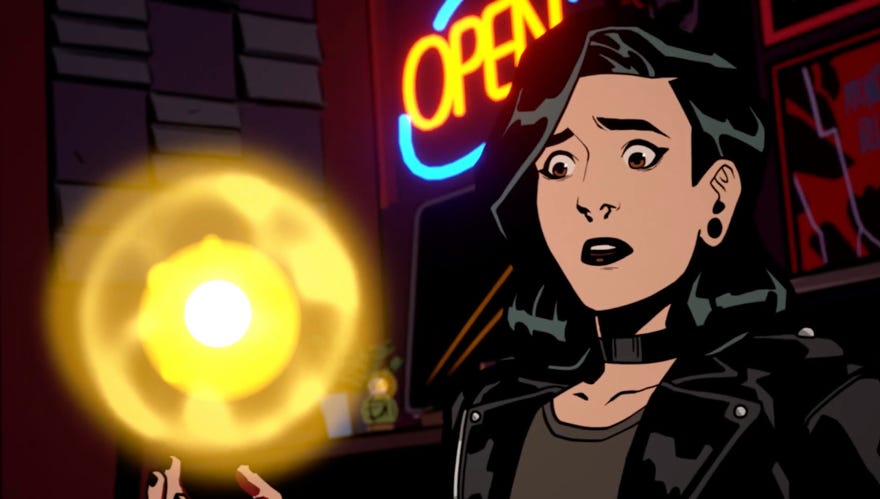 Dragon Age writer David Gaider's new adventure game Stray Gods: The Roleplaying Musical will now hit the stage on August 3rd. It was formerly known as Chorus - and presumably changed its name to avoid sharing an RPS tag with Chorvs - but after reaching its crowdfunding goals and finding a publisher, Stray Gods is ready for the limelight.
Stray Gods is set in a hand-drawn "modern fantasy" world where the Greek Gods secretly live among us. One day college dropout Grace gains the mystical powers of The Muse, granting her the gift of musical persuasion, but the Gods have also accused her of murder. From here, you'll be untangling a mystery, making impactful choices, and deciding to either charm or strong-arm your way to finding answers. Happily, there are a couple romantic options, and you'll often break out into musical sing-songs when the time is right.
By musical, I'm not referring to games like The Artful Escape or Sayonara Wild Hearts where music is accompanying your every move. Stray Gods is the musical theatre kind of musical where spoken words will weave in and out of songs, and characters express themselves with Broadway-worthy voices. Based on your choices, the musical numbers can actually split off into different variations, which is nice for multiple playthroughs. Best of all, the soundtrack has production from Austin Wintory, the man behind Journey's epic strings.
The actual voices are centre stage, though, and your ears might recognise some of the cast. Actors from The Last Of Us (and a million other games) such as Ashley Johnson, Troy Baker, and Laura Bailey are all here, just in case you couldn't connect a face to those familiar sounds.
You can watch Stray Gods' newest trailer above and then wishlist it on Steam in preparation for its PC release.