Dynasty Warriors Spin-Off Berserk's Trailer Gets Gibby
Chop, chop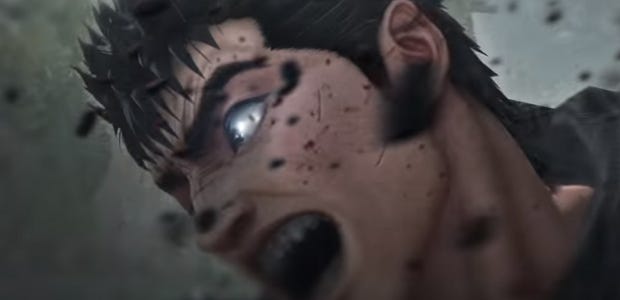 How do you like your claymore-wielding, lone-fighting, cape-sporting dark fantasy renegades served? If it's with a penchant for murder, a desire to slice scores of forest-dwelling monsters in half, and a want to spill as much blood as is single-handedly possible, then Berserk has you covered. In case you missed the E3 reveal (you didn't, though, because you bookmarked our E3 2016 news tab, didn't you?) Berserk is the next Dynasty Warriors hack-n-slash spin-off based on the mature fantasy manga series of the same name. It's now teased its first footage. And it's typically pretty brutal.
Swords and blood and monsters being flung several feet into the air at the hand of an angry mercenary, behold:
Beyond that, details of what Berserk is all about are still pretty thin on the ground. The angry guy with the nice eyes up there is named Guts - the protagonist of the manga series - and that dark and dreary forest area is supposedly medieval Europe. Speaking to Gamer JP, and translated by Play-Asia, publisher Koei Tecmo's president Hisashi Koinuma also suggests the game adaptation will take place in the lore's Golden Age and will tell a story "fans will love yet newcomers can also come and enjoy as if they picked up the very first volume."
September 21, 2016 has been touted as launch day in Japan, however nothing is set in stone as yet in the west. The latest screens also point to a second playable character. Look, see: