Enter the Gungeon's delayed expansion is out next week
Featuring: More bullet points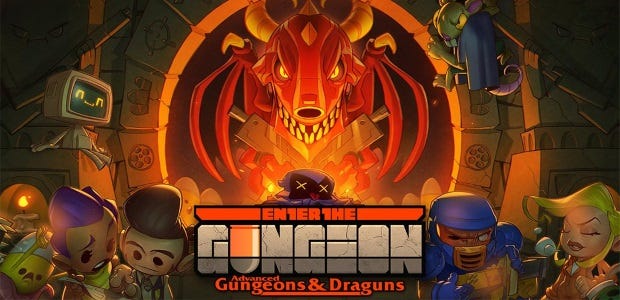 Time to shoot bullets with bullets made of bullets again. Charming roguelike shooter Enter the Gungeon is getting a major expansion next week, for the always-nice price of free.
Announced as "coming soon" in August 2017, it's safe to say this got delayed a tad, but according to developers Dodge Roll on Twitter, the Advanced Gungeons & Draguns expansion should be out next Thursday, July 19th.
I've been looking forward to this update for a while. According to Dodge Roll, the expansion is going to include a lot more of everything. To quote:
"Advanced Gungeons & Draguns includes hundreds of new rooms with dozens of new weapons, items, enemies, and ammo types. Hundreds of new, wild synergies. More generous drops rates. Slide over tables and coffins. Lots more…"
And in keeping with Gungeon's endlessly referential nature, Destiny's Gjallarhorn rocket launcher is coming in the expansion, plus a little floating robo-buddy that looks a lot like a Ghost:
Gjallarhorn confirmed. https://t.co/8GMLZnt0eW pic.twitter.com/4GldffqUgA

— Enter the Gungeon (@DodgeRollGames) April 11, 2018
And here's a couple screenshots from Dodge Roll's Twitter feed, dense with new gubbins. It's been ages since I've played Enter the Gungeon, so I'm going to rely on you eagle-eyed Gungeoneers to tell me exactly what's fresh here, but I definitely don't recognise a lot of this stuff. Click to embiggen.
According to their original description of the expansion, expect the dungeon to get a little denser, more varied and more generous. Easier too thanks to the increased drop rates, which is probably good for me as many of my runs ended due to ammo starvation. Maybe now I'll actually have a shot at some of the tougher secret bosses.
I now leave you for the weekend with the theme song from Vlambeer's Gun Godz, because it's relevant and stuck in my head now.
Enter the Gungeon is available on Steam, Humble and GOG for £11/€15/$15. The Advanced Gungeons & Draguns expansion is out on July 19th, and will be completely free.