Enter The Gungeon's huge Supply Drop update is live
Nearly 200 new rooms, plus guns and baddies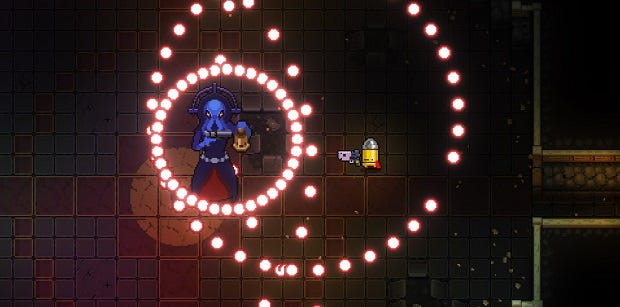 Top-down action roguelike Enter the Gungeon [official site] contains more sentient bullets than any other game I've ever played. Published by Devolver, it thoroughly tickled John's fancy last year and I enjoyed what little time I spent with it as well. Just now, the first major update landed, adding almost 200 new rooms, along with new weapons, enemies, companions, bosses and shrines. One of the guns is called the Bullet Gun. It's "a gun shaped like a bullet that shoots guns and those guns shoot bullets".
This update, called Supply Drop, is live now and is free, but a full paid expansion is coming as well. That'll be later this year, or early in the next. To celebrate the Supply Drop, Devolver are probably eating a cake made out of bullets, and they've also gone ahead and slashed the price of Gungeon by 50% as part of a Steam weekend deal.
The fellow in the image at the top of the page is a Mine Flayer. Looks like he's threatening that bullet with a gun, doesn't it? I'll let you figure out the implications of that particular scene.