Euro Truck Simulator 2 revamping Germany now, rest of the map later
First, we take Berlin. THEN WE TAKE MAIDSTONE!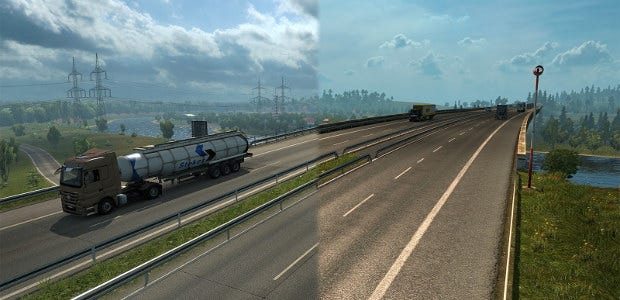 As SCS Software continue to add to Europe with Euro Truck Simulator 2 (the next expansion focuses on the Baltics), older parts are starting to look a little scrappy. The latest update added more life to its roads but now SCS are thinking bigger. They're currently working on revamping Germany for a free update overhauling its autobahns, touching up its cities, replanting its forests, and generally making it a nicer place to chill out. This process will take some time but SCS today shared a few peeks at the impressive improvements. They'll overhaul more countries later too.
SCS said in today's blost post that they have "a small but passionate team of map designers" working on refreshing base game's map "to bring it up to or at least close to our current standard of visual quality". The oldest regions being the most run-down, they're starting with dear ol' Deutschland.
Here, check out this stretch of autobahn as it currently stands:
And how it'll look post-fancification: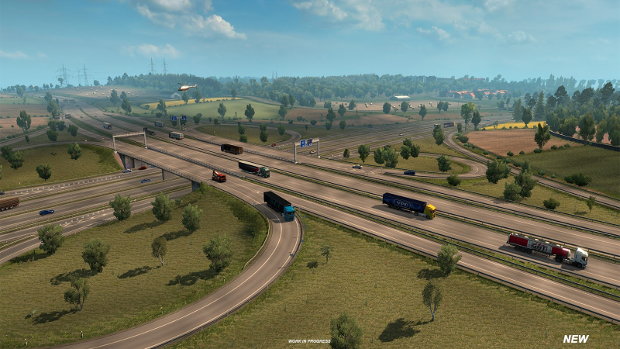 Wunderbar! The blog post has more shots to coo over too.
"As you can see in the screenshots, the touches to the German autobahns are considerable," SCS say. "Some cities are altered in a major way, some will only get a bit of polish for now with new textures, vegetation, and cleanups of the worst visual sins."
They are still working on new expansions for both Euro Truck and American Truck, mind, so they'll need a separate team for this. And it won't be quick. Germany's overhaul alone will be split across multiple updates, and with their plan "to eventually revisit the whole of core game map"... quite a while.
I'd guess that the UK might be next in line for a refresh, as it's another transplant from an even older game. ETS2's Germany and UK were largely brought over from German Truck Simulator and UK Truck Simulator, see, so they're the oldest regions of the map.
I'm glad they're doing this. If sales let them keep updating Europe forever, over and over, hey go wild. They do keep adding and overhauling the gameguts and I'll take eternal renewal and expansion over buying sequels which would almost inevitably be smaller. Consider how weird it always feels when a new Civilization sequel arrives, feeling slight compared to its heavily-expanded predecessor.