Flying citybuilder sequel Airborne Empire will attack you with sky pirates
Entering early access in 2024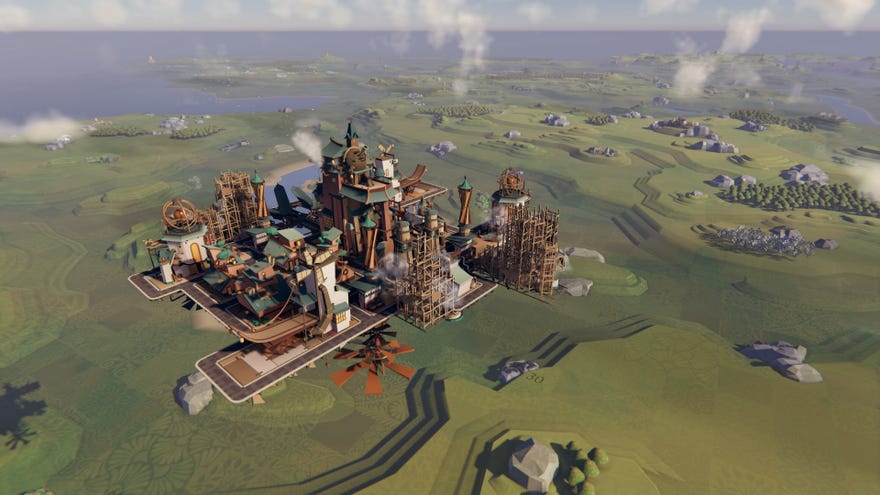 Airborne Kingdom was about constructing a floating city in the sky; you figuratively and literally balanced your construction of homes and industry as you floated around and interacted with settlements on the ground to gather resources. Nate called it an "absolute delight" two years ago.
Now there's a sequel on the way. Airborne Empire starts with the same basics of citybuiilding, but now your constructions will be under siege from sky pirates.
Here's the announcement trailer:
"The unique lift, balance, and propulsion mechanics return, but a new foe has emerged: pirates upend the city's tranquility, and players must defend their inhabitants – and the kingdoms below! – from destructive attacks," says the Steam page.
Part of what made Airborne Kingdom appealing was how it looked and sounded, drawing from the "golden age of medieval Islam writ large", as Nate put it. I'm too much of a dummy to draw conclusions about the aesthetic from Airborne Empire's trailer or screenshots, but I do like its little pirate planes and their big pram wheels and how your city crumbles building-by-building as attacked.
Airborne Empire is aiming to launch into early access in 2024, and remain there for "one year or longer" while they add more biomes, buildings and story events.
---
NotE3 and Summer Game Fest 2023 is over for another year. You can find out all the latest news by visiting our E3 2023 hub, or you can catch up with our round-up posts of everything that was announced at Summer Game Fest, the Xbox Games Showcase, the PC Gaming Show, Day Of The Devs, and our top highlights from the Wholesome Direct.