Fortnite Battle Royale's temporary 50 vs. 50 mode is live
Play until December 17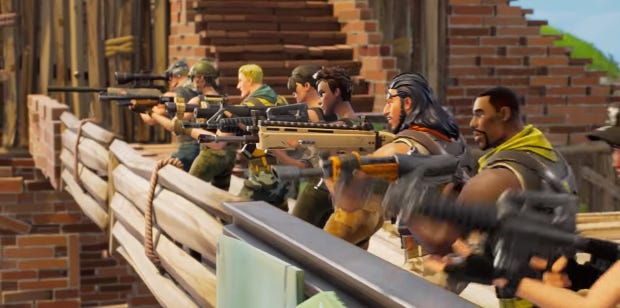 If you reckon Fortnite Battle Royale's squads are too small and don't provide enough meat shields to cower behind, then have I got some good news for you. From now until December 17, you'll be able to dive into completely ridiculous 50 vs. 50 battle royales. Fortnite's probably going to get very, very messy for the next week. Check out the trailer below.
After burning out on Plunkbat, I've become something of a Fortnite Battle Royale convert. The main, base-building game does nothing for me, but it makes for a surprisingly robust last man standing romp. The pace could stand to be a little bit slower, but I do appreciate that a lot less time is spent running around, desperately searching for gear.
The 50 vs. 50 mode will, I suspect, scratch an entirely different itch. I'm looking forward to getting stuck into some titanic clashes, but I'm even more interested to see what sort of gargantuan fortresses 50 people are going to construct in the middle of a war. That's the one thing I don't see enough of in Fortnite -- people are far too practical and don't build enough unnecessarily complicated and huge bases.
While this mode is temporary, I wouldn't be surprised to see it return after December 17. Epic say that more special game modes are being planned for the future, and I can't imagine that the studio would put in the effort for something that only lasts for a week. Perhaps we'll end up getting a special mode rotation a bit like Overwatch's brawls.
Still trying to get to grips with Fortnite? Check out our Fortnite guide hub for more tips and tricks for the game. You can also find the latest challenges in our Fortnite week 6 challenges guide.