Infested Planet Gets New Dynamic Campaigns In DLC
Dynamic infestations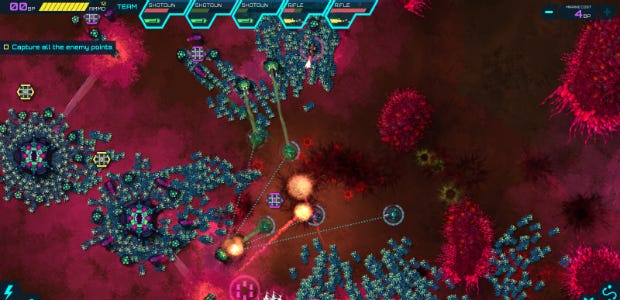 Infested Planet [official site] is a game that actively tries to destroy you. No, really. Thousands of bug-like aliens are out to kill you and they can even mutate as you wipe them out to become better suited to annihilating you. Because they're jerks and that's all they care about. Graham dug Infested Planet in 2014 and if you did too, good news: now it's been expanded with procedural campaigns in new DLC.
The Planetary Campaign DLC will insert randomly-generated campaigns into the game for your exterminating pleasure. You'll start out totally outnumbered and outgunned (and you wouldn't have it any other way) and progress across the map, unlocking new tech progression that changes from game to game. The aliens will keep mutating to try and keep you down, too. So watch out for that.
There's a whole new wealth of stuff to do since campaigns can change on the fly, adding a whole new level of strategy to the game than before, as if it weren't stressful enough already. There's also three new weapon classes in the form of the Medic, Grenadier, and Guardsman. You'll also be exterminating three new aliens: Vile Tongues, Bombards, and Infested Bunkers.
In addition to balancing tweaks, the story campaign will now let you choose a difficulty, the Scout weapon class has been revamped, and mutations have been adjusted.
Fancy checking out the expansion? It's out now on Steam for £5.59/7,99€/$7.99.