JC2MP Creators Cancel Just Cause 3 Multiplayer Mod
Another mod is in progress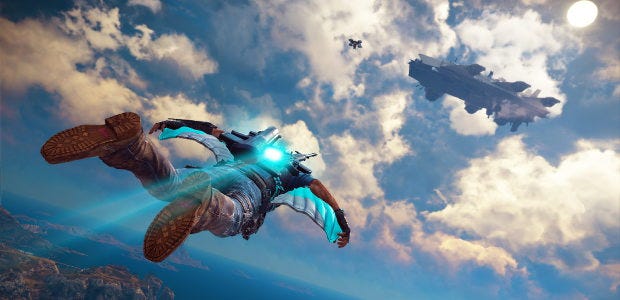 What?! Didn't Alice report just a few days ago that the Just Cause 3 Multiplayer mod was coming along nicely? Yes, but that was a different Just Cause 3 multiplayer mod. The one that's been cancelled is the one that was being made by the developers of the popular, trendsetting JC2MP. Although it might not all be bad news: its primary developer has gone to work for Just Cause creators Avalanche.
In a post on the JC2MP site, developer Trix writes:
"Good and bad news often come in pairs, and this case is no exception; several months ago, I was approached with an offer I couldn't refuse: to join Avalanche Studios Sweden as a developer so that I could work on projects present and future. As part of Avalanche, I'll be able to bring many of the things you know and love from JC2-MP into future Avalanche experiences, while reaching heights that a mere mod couldn't facilitate. Unfortunately, due to time constraints, neither I or the rest of the team can actively pursue development on JC3-MP; our lives are just too busy to allow for it right now."
Which is a common cause for mods to fizzle out - both lives being too busy, and creators being hired to work at professional developers.
Importantly, the post also notes that JC2MP development will continue, and "while we're not actively adding new features, we will fix bugs, maintain stability, and ensure that JC2-MP remains a quality experience for players present and future."
It's been a while since I played JC2MP, but it went further than simply letting you mess around in that game's sandbox with friends, also including multiple different game modes and features like base building. Although, let's be honest, it was the messing around that I was there for; if you find that you spend most of your time in GTA Online just setting up stunts to perform with pals, then JC2MP might be worth looking into.
Here's hoping the other, still in-development Just Cause 3 multiplayer mod manages to achieve something similar. Here's what it looks like currently: