Just Cause 3 Multiplayer mod explodes onto Steam
Bants galore!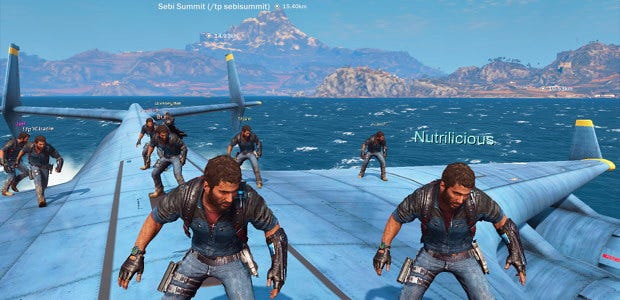 What is the weekend for if not banter, antics, and japery? Go on, round up the lads and hop in the bantmobile to speed smash boat bash plane dash around Just Cause 3 now that its multiplayer mod [official site] has left beta and exploded onto Steam. The unofficial (but sanctioned) mod lets hundreds of players lark about in the explode-o-sandbox world in battles, races, and just plain tomfoolery. Here, check out the antics in this launch trailer:
Splode-o!
When I played the multiplayer mod for Just Cause 2 (which was similar, but made by different people), I mostly joined in endless firefights around the airport. That's just what I did, mind, not all it had. The Just Cause 3 has a variety of minigames and modes, from deathmatch to races, as well as supporting a scripting language to let people make their own modes and bits.
Mod developers Nanos launched the mod into public beta in January and last night hit version 1.0. This isn't the end of development, mind. You can track some of the future plans on the mod's GitLab page.
Just Cause 3 Multiplayer is free to download through Steam, though you will of course need to own Just Cause 3 to play.