Man For Sale: Chris Avellone On Torment Kickstarter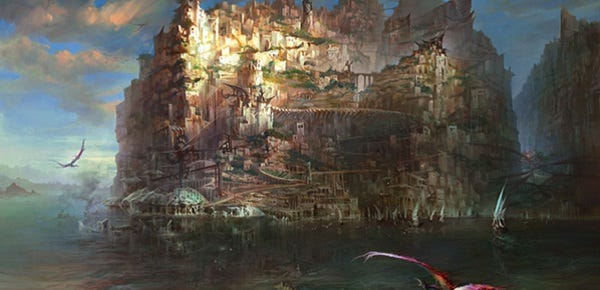 Roll up roll up! We have one man for auction! Cofounder of Obsidian Entertainment, lead designer for a thing called Star Wars: Knights of the Old Republic 2, lead designer on a thing called Planescape TM: Torment. Anyone? Anyone for a designer man? You sir? You ma'am? You look a likely sort for a single player, story-driven, isometric role-playing game. Come on lady, do you like complex and nuanced morality, deep and reactive choice and consequence, and immersion into a new and strange vision? Sounds sexy doesn't it sir. LOOK AT HIS CRANIUM. Looooooook at those sexy hands of design-orientated development skills! Well give us $3.5M and you can have him you cheeky buggers.

Yes! It's true. Dreams have come true. A man is on sale and he is Chris Avellone, the lead designer of Planescape Tee Emm: Torment, the inspiration for the new game Torment: Tides of Numenera currently being Kickstarted!
The guys at inXile entertainment said:
Of course, from the start, we hoped Chris could contribute to Torment as well. But as recently as a couple weeks ago (16 days to be precise), we didn't know whether Torment would even fund. And besides, Chris's commitment to Project Eternity made it unclear whether he'd have the time. Given his key role in Planescape™: Torment, and the respect he has earned from the game's fans, we didn't want to even hint that Chris might be involved unless we were certain it would be possible. Our unexpectedly strong start – because of you – made it an option we could explore. So explore we did. We've been able to work out the scheduling matters so that Chris can contribute to Torment without impacting Project Eternity.

At $3.5M, Chris will be joining our design team. He'll have two primary roles. First, he will be reviewing and providing feedback on all creative elements of the game, including the story, characters, and areas. His input will be invaluable as a resource to Colin in further detailing the creative vision for the game. Second, he'll be designing and writing an eighth companion for the game, working with Colin and Monte to craft a companion ideal for both Torment and the Ninth World of Numenera.

We are truly excited at the possibility that Chris could collaborate with us on Torment.
Yus! The Kickstarter was at $2,853,143 at the time of writing, so it looks like Chris might actually get to work on the game. Also being persuadededed is writer Pat Rothfuss. This looks promising you guyses.