Minecraft: Story Mode's First Episode Is Free On Windows 10
Those blockheads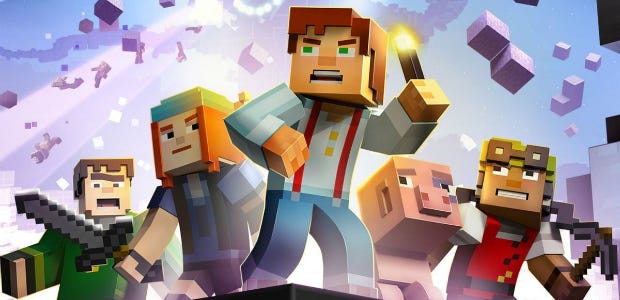 Telltale Games' lighthearted Minecraft: Story Mode's [official site] season premiere episode is free to download right now across various platforms, including Windows 10. So if you were curious if this might be the next Telltale adventure game you should throw money at, you can give it a look without spending any.
It's a serviceable adventure that offers some benign fun in the Minecraft universe, following a few unique characters created specifically for this tale. It's seemingly aimed at a much younger audience than the rest of Telltale's ilk, but the graphics look much better than what we got with the Game of Thrones episodes or the lackluster content in The Walking Dead: Michonne.
Put simply, if you like Minecraft and you like adventure games, you'll probably enjoy much of what's on offer here. And if you like "celebrity YouTubers," well, there are some of those here too, unfortunately.
You can download the first episode, Order of the Stone, free from the Microsoft Store on Windows 10. No, we don't know why it's not free on Steam and GOG for other versions of Windows too.