Mini Metro Departs Early Access On November 6th
Assuming no strikes.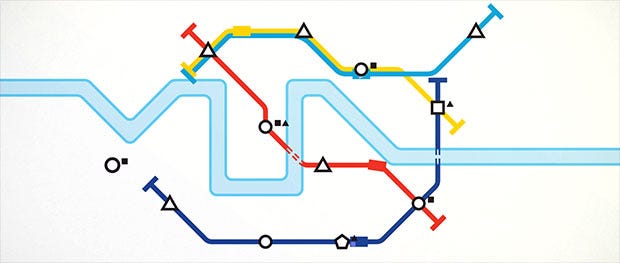 Mini Metro [official site] is a simple puzzle game about building an efficient subway system, styled up to look like the London Underground map. It is tranquil, and strangely beautiful, and it will make you feel a tiny moment of sympathy for the people in charge the next time you're making three changes on your route across a city. It's leaving the early access station on November 6th and there's a launch trailer below, which shows the life of one of the little dots your system ferries around.
Isn't that lovely?
The game's genius is that you don't get to choose the position of new stations; they are placed on the map at random, as if determined by unseen forces of population and government. It's your job to connect them up in such a way that your passengers - represented by a circle, star, triangle or square, reflective of which station they're going to - can get where they're going on time and with as little fuss as possible. It's such a small game that I've just about described the totality of it in two sentences, but I've lost hours to it.
Alec similarly fell for Mini Metro when he played it in August of last year. Back then it had no sound, but he found the same things I did. It's remarkable how you set out with the best intentions, creating an efficient one or two-line system, but within ten minutes you've built a jumble of different coloured lines.
If you can't wait for the full release, it's already available in early access from Steam, GOG and Humble.