Murdertime: Hotline Miami 2 Release Date & Payday Bits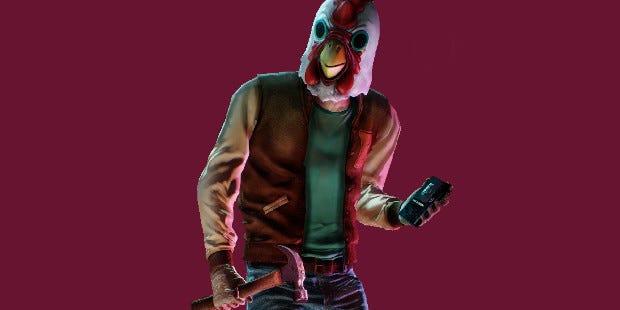 Imagine if all your favourite murderers in video games got together and did murders together, like a superhero team or a supergroup. The Avengers with no thought for collateral damage, or The Plastic Ono Band with hammers. Hotline Miami 2: Wrong Number [official site] is more a tribute act of murderers, with schlubs inspired by Jacket's cool murders in the first game. Hotline Miami's crossover with Payday 2 is coming closer to that supergroup dream, though, bringing Jacket to the heist FPS.
Oh, and did I mention that Hotline Miami 2 now has a release date? It does: March 10th.
Yep, it's due to arrive on March 10th, priced at £10.99/$14.99. I mean, technically is a post about Hotline Miami 2's release date so it's the game I should focus on but, well, I've done that now? It's HM-style murdering with new characters with their own skills and it's due to get a level editor a bit after launch and okay onto the crossover marketing!
Owning HM2 on Steam (though it'll be sold through GOG and Humble too) will get you six Hotline Miami masks to wear in Payday 2. If you buy the £14.99/$19.99 Digital Special Edition, though, you'll also get a Payday 2 Jacket character pack. He's playable with his own model, and it adds a new 'Sociopath' perk derk along with an extra mask, a hammer, and a submachine gun too. Those will unlock when HM2 launches. The promo site has more details.
Seeing how Hotline Miami 2 is banned in Australia, Payday devs Overkill are giving folks down under another way to get all this. Aussies will be able to send Overkill a scan of their Australian passport or ID to receive a code unlocking the bits for free. That might not help folks who live in Australia but aren't Australian, but hey! It's a nice thought.
Here, check out the murdering in this trailer for Jacket's Payday 2 appearance:
Payday 2 has already crossed over with the Keanu Reeves movie John Wick too, letting folks play as the assassin, so I ask: which cool murderer is next?