Netflix's Castlevania will make a mess of your Halloween plans
What a terrible night to... you get it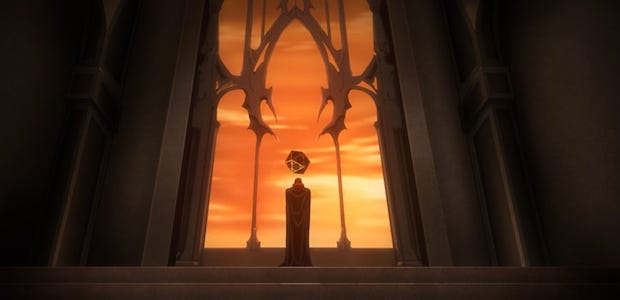 If you're like me, a recent playthrough (or two) of Vampyr has left with you a taste for something unholy... a taste for more complicated vampire stories that Vampire: The Masquerade – Bloodlines can't seem to quench. Well, for my children of the night, excellent news has just arrived via a cloud of mist that transitioned into a press release and then back into a bat: Netflix's Castlevania has a season two and it is set to arrive just before Halloween on October 26th. What a terrible night to have... already made plans with some friends... that I need to cancel now. (Is cancelling on friends diabolical?) Bwahahahah!
The first season of Castlevania, based on a straight to DVD movie script written by Warren Ellis back in 2007, was just a couple of episodes that broke up the 90 minute story. Which wasn't nearly enough. Or maybe I should've checked how many episodes there would be before I started it, so I wasn't shouty-upset when I finally got invested and then it ended. Seeing it make its way into a second season a mere year later is excellent.
(If you haven't watched season one yet, please do so. I think the opening sequence is one of my favorite in animation, and the dialogue really sets a high bar for the series.)
There's been a number of teasers this week, leading up to this moment and the announcement of an actual release date. There are also eight episodes this time around, doubling the count of the previous season. Which is... look, I would have preferred more, but I understand I could have waited much longer for much less, so imma keep my mouth shut here. Keep making Castlevania III: The Show The Movie, guys.
Blood will flow. pic.twitter.com/m6bJsAPMau

— Mr. Belmont (@Castlevania) July 3, 2018
Raise hell. Season 2 is a bloody nightmare. Join our awakening October 26, only on Netflix. pic.twitter.com/gtXU0iP2VA

— Mr. Belmont (@Castlevania) July 6, 2018
The NES-influenced Bloodstained: Curse of the Moon is worth playing while you wait for more Castlevania to enter your life. Or, and this is only for the truly bad-ass among you, Simon's Quest has a DOOM mod.