Spec me up: Prey PC system requirements confirmed
Check your spec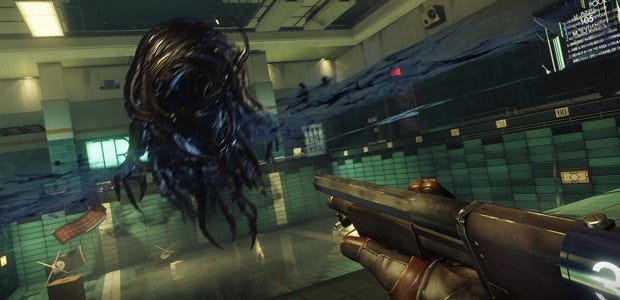 If you've been cooing and making kissy faces through the window at the upcoming new Prey [official site], Arkane's sci-fi remix of Dishonored, you might have heard a demo is out today. It's not for us. No, the demo with the first hour-or-so of the game is only for consoles. Given how many big games launch with performance problems, it's a shame we won't get to have a crack on our own PCs. Publishers Bethesda have at least confirmed system requirements, which give... a vague indication of how it might potentially run? Check your spec:
Minimum

CPU: Intel i5-2400, AMD FX-8320
GPU: GTX 660 2GB, AMD Radeon 7850 2GB
Memory: 8 GB

Recommended

CPU: Intel i7-2600K, AMD FX-8350
GPU: GTX 970 4GB, AMD R9 290 4GB
Memory: 16 GB
That's all good and well on paper but in reality, who knows? Now that Steam gives out refunds more freely, it will be possible to buy Prey, play it for up to two hours to get a sense of how it runs, then refund if it's wonked, but that process sucks. It's a chore to go through, and buying a good-lookin' game only to discover it doesn't run well is a big disappointment. Of course, it might run just dandy. It might be all sunshine and rainbows blasted into your eyes at 180fps. I do not know. But this sucks when a demo is on consoles.
I have no insider knowledge but I would be surprised if this last week before the game's launch next Friday, May 5th, isn't being used to polish up the PC version. Given the response to Dishonored 2 -- which is a neat-o game beneath its technical problems, to be clear -- I can't imagine Bethesda much fancy a repeat of that.
As for what's in the advanced graphics options menu (the most exciting part of any PC game for some, I know), Bethesda say to expect:
Object Detail
Shadow Quality
Texture Quality
Anisotropic Filtering
Anti-Aliasing
Horizontal Field of View
Screen Space Directional Occlusion
Screen Space Reflections
You can always watch our Alec play that first hour (or with commentary), if you'd like.