Rising Higher: Guns Of Icarus Online Kickstarter II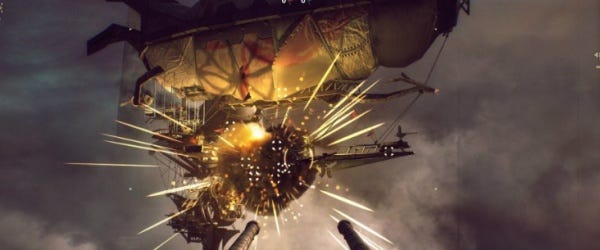 Airship MMO Guns Of Icarus is to receive an adventure mode. The original game, Kickstarted in February 2012 (before it was cool), was released in October with the promised skirmish play. Over a year later, Muse Games returned to the crowd-funding beg-me-up to fun an expansion of the project, fleshing out the world the game takes place in, and adding an Adventure path. This second Kickstarter has just dinged its $100k, so that should now be a thing that happens.
Sort of. The team are openly hedging their bets with this project, putting their funding target far below what they actually need for the full plans. Which is often frowned upon, but Muse are stating that this minimum funding will make significant differences to the game - just not the full Adventure Mode it's all about. Hmmmm. That doesn't seem the ideal route. That first one hundred thousand will fund an AI director for a co-op mode, and the missions you'll be able to play, but won't cover the "econo-political" stuff, nor the world-building that seems pretty central to the point of this campaign. And those stretch goals to get them? $350k and $500k respectively. Five times the target... I think my primary concern here is that none of this is mentioned in the main video, and that never sits right. (And there are obviously questions to ask about why the released game isn't funding its own development.)
However, they do emphasise the point that they've a proven track record. With a Kickstarter in 2011 (CreaVures) having resulted in a released game, and last year's first kick on Icarus having produced the game it promised (a real rarity so far, from last year's KS explosion), they argue they've earned some trust here. And the funding raised so far will be adding missions for co-op play, which will be a significant change for the game. They're not being bad guys here - they could just be clearer about it.
(Which is a lesson they really ought to have learned after not being clear that the previous Kickstarter didn't cover the Adventure Mode itself. They explain that the funding raised - just $35k - only covered a portion of what it took to make Skirmish, which also drained all their own finances on top.)
There are 34 days left for the campaign to reach the half million it needs to achieve all of its stated ambitions. And just take a look at the game to see why that's something worth paying attention to: