Roblox promo codes list [June 2023]: Redeem these Roblox codes for free items
A full list of Roblox promo codes and free items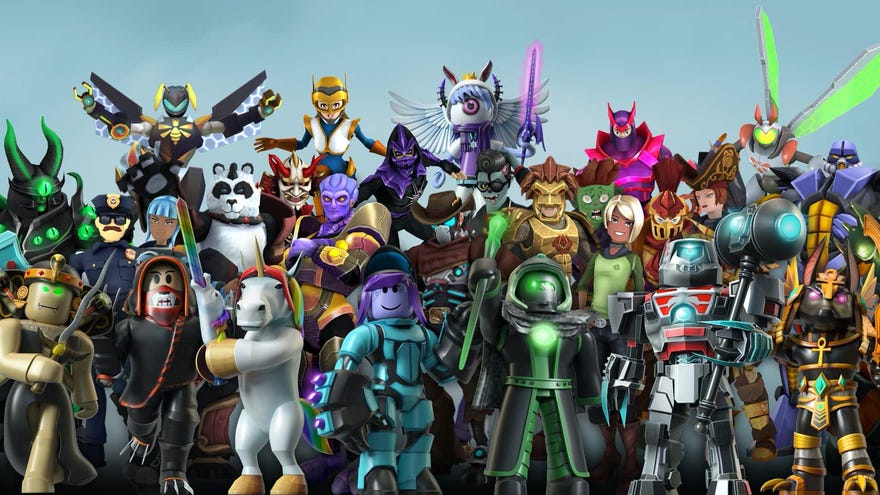 Looking for the latest Roblox promo codes and free items to redeem? Roblox promo codes are a fantastic way to earn free items and accessories, which you can then use to customise your Roblox character. So if you don't have enough Robux to deck out your character in all the fanciest clothes, don't worry! Promo codes are here to help.
Read on for our up-to-date list of all the working Roblox promo codes, including codes for Island Of Move and Mansion Of Wonder. We'll also explain how to redeem each of these types of Roblox codes, and how to complete challenges to earn dozens of free items.
---
On this page:
Roblox promo codes list
Last checked on: May 30th, 2023
SPIDERCOLA - Spider Cola
TWEETROBLOX - The Bird Says
DIY (Island Of Move) - Kinetic Staff
GETMOVING (Island Of Move) - Speedy Shades
SETTINGTHESTAGE (Island Of Move) - Build it Backpack
STRIKEAPOSE (Island Of Move) - Hustle Hat
VICTORYLAP (Island Of Move) - Cardio Cans
WORLDALIVE (Island Of Move) - Crystalline Companion
BOARDWALK (Mansion Of Wonder) - Ring of Flames Waist Accessory
FXARTIST (Mansion Of Wonder) - Artist Backpack
GLIMMER (Mansion Of Wonder) - Head Slime Accessory
PARTICLEWIZARD (Mansion Of Wonder) - Tomes of the Magus Shoulder Accessory
THINGSGOBOOM (Mansion Of Wonder) - Ghostly Aura Waist Accessory
Here is the full list of currently active Roblox promo codes. Pay attention to the information in the brackets, because some of these codes need to be redeemed in different ways. Read on to find out how to redeem all of these Roblox codes.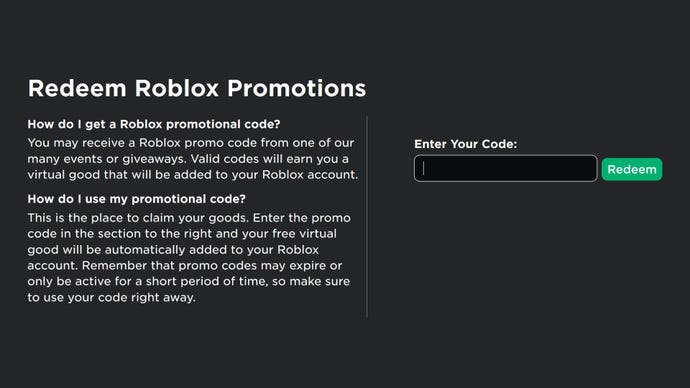 How to redeem Roblox promo codes
To redeem a basic Roblox promo code, all you need to do is go to the Redeem Roblox Promotions page. There you can enter each code you wish to redeem one at a time. Simple!
How to redeem Island Of Move promo codes
To redeem Island Of Move codes, you have to launch Island Of Move. Once you're in the game, click on the green character standing under the words "PLAY IT!", and click the "Redeem Code" button. Then enter your Island Of Move codes one by one.
How to redeem Mansion of Wonder promo codes
To redeem Mansion of Wonder codes, you have to launch the game Mansion of Wonder. Then head to the in-game Swag Booth to redeem the codes.
How to redeem Sonic Speed Simulator codes
To redeem Sonic Speed Simulator codes, launch the experience and enter the in-game shop. On the left-hand side of the screen you'll see a Redeem Codes option; from there, simply plug your code into the Enter Code text box and click Redeem to reap your rewards!
---
Free Roblox items list
You can also get free Roblox items without using promo codes. Many Roblox games give items as rewards for completing certain tasks, and many of these items will go straight into your inventory for your account.
Here's a list of free Roblox items and how to get them:
Lunar New Year Rabbit Pal
To celebrate Lunar New Year 2023, you can get a free accessory in the form of the Lunar New Year Rabbit Pal. This shoulder accessory will accompany you wherever you roam in the land of Roblox. However, you can only claim your Rabbit Pal until 26th January.
Tommy Play
Yet another fashion brand has thrown their hat into the Roblox ring! Enter the Tommy Play experience and complete BMX tricks to earn in-game currency that you can exchange for a wide variety of Tommy Hilfiger swag for your avatar.
Gucci Town
Not to be confused with the other Gucci brand tie-in experience on Roblox, you can play Gucci Town and complete mini-games to earn in-game currency that can be exchanged for five branded freebies for your avatar: Gucci Love Parade Print T-Shirt, Gucci Oversized Sunglasses, Gucci Pink GG Baseball Hat, and two different hairstyles.
SOFI TUKKER Purple Hat
House duo SOFI TUKKER are hosting a listening party inside the WET TENNIS x RS Tennis Roblox experience to promote their newest album. You can play along, but you can also claim the accompanying SOFI TUKKER Purple Hat freebie directly from the Avatar Shop if you'd prefer.
Insomniac World Party
To celebrate Las Vegas's annual EDC dance party that took place last week, you can enter the Roblox experience Insomniac World Party and claim a couple of freebies. Log in to the experience seven days in a row to nab yourself a PhotoSynthesiser Wings badge, and take a tour of the experience to claim an exclusive Owl Mask accessory.
Prime Gaming Roblox loot: Virtual Nomad Bundle
After a considerable break, Amazon have once again launched a new series of exclusive Roblox items available to players who are also Prime subscribers. The Cyberpunk Wolf Hat, Futuristic Mech Sled, Hovering UFO, and Mardi Gras Steampunk Hat have now been and gone, but a fifth item has taken their place: the Virtual Nomad Bundlek.
Tate McRae Concert Experience
The Tate McRae Concert Experience debuted on May 20th, giving players the chance to collect Tate Tokens and compete in challenges to earn the Gold Pin - Tate McRae avatar item. Eagle-eyed fans have spotted some more Tate McRae swag in the Avatar Shop that'll likely be made available through the experience in the coming days, so watch this space for more news!
Clarks' CICAVERSE
Yes, Clarks the shoe brand! The Clarks' CICAVERSE collaborative experience with Roblox launched on May 16th. Participating players can take part in various mini-games to earn some avatar items none of which are shoes, oddly enough. Instead, there's a Cica Gold Jetpack, Clarks Shoelace Wings, Desert Boot Headphones, Lion Head Helmet, and Shoebox Backpack up for grabs.
Samsung Superstar Galaxy featuring Charlie XCX
The Samsung Superstar Galaxy event will run for a month or so, leading up to an in-game Charlie XCX concert on June 17th. In the meantime, players can level up their avatar within the experience to claim nine different cosmetic items.
Spotify Island
Previously teased under the working title Project Miami, Roblox's collaboration with Spotify was unveiled on May 3rd, 2022. Spotify Island players can complete missions to nab themselves some exclusive freebies: the Hwaiting and Annyeong emotes, 5-Petal Backpack, and Floating Boombox shoulder accessory.
Mental Health Awarenes Month in Alo Sanctuary
In a break from the usual brand tie-ins, Alo Sanctuary is a Roblox experience that aims to promote an interest in yoga and a sense of tranquility among participants. On the back of its February debut, the experience has released a new series of 11 free items in honour of Mental Health Awareness Month, running from 1-31 May, 2022. Complete various missions in Alo Sanctuary during this month to claim a wide variety of cosmetic rewards.
My Hello Kitty Cafe
Hello Kitty designers Sanrio are no stranger to video game collaborations, of which the latest is the Roblox experience called My Hello Kitty Cafe. There's a rather adorable free item to be claimed in this one: the Cinnamoroll Backpack. Earning it is actually very simple, but requires you to get deep into your Hello Kitty café owner roleplay, as it unlocks only once you've served 1,000 customers. More mystery freebies are set to unlock once the experience reaches certain Likes milestones.
Logitech Song Breaker Awards
The annual Song Breaker Awards ceremony is making its Roblox debut in 2022, with (of course) a couple of free items available for players who take part. You just need to enter the Logitech Song Breaker Awards experience and complete a couple of very simple quests. Riding the in-game roller coaster nabs you the (GOLD) Litra Glow Wingsuit - Logitech back accessory, and taking a selfie in the appointed selfie zone entitles you to the (GOLD) Logitech StreamCam hat. There's also a bonus prize of a (GOLD) POP Keys Hat - Logitech for players who participate in a scavenger hunt to collect all 25 Logitech Coins hidden around the experience.
Chipotle Burrito Builder
Roblox is currently featuring a revamped brand tie-in with US fast food chain Chipotle, with a host of Avatar Shop goodies available for free in return for you simply rolling a few in-game burritos. The rewards are: Tie Dye Shirt (5 burritos), Doodle Bandana hat (10 burritos), Pepper Choker necklace (15 burritos), Spoon Shades (20 burritos), Cheese Frosted Tips hair (25 burritos), Foil Fanny Pack waist accessory (30 burritos), and Guacman back accessory (35 burritos). The event was initially expected to close on April 13th, but the rewards were still up for grabs when I checked in the following day, so act fast and you might still get them!
Earn a Beats item in Dunking Simulator
Entertainer Kerwin Frost has teamed up with Beats by Dre and the developers of Dunking Simulator for this limited in-game promotion! Enter the experience and talk to the new NPC to complete a short questline and receive a free Cosmophones hat accessory.
GRAMMY Week
Yet another real-world awards ceremony has created a parallel experience in Roblox! From March 31st, players can enter the GRAMMY Week experience in celebration of the 64th Grammy Awards, and compete in scavenger hunts to win prizes including the GRAMMY Chain and the MasterCard Aviator Glasses (MasterCard are sponsoring the event).
24kGoldn Concert Experience
Pop-rap artist 24kGoldn has become the latest musician to host a virtual concert within Roblox. Premiering on March 25th, 2022, the El Dorado Concert Experience comes with the expected helping of freebie merch. Complete challenges within the experience to earn badges which can be exchanged for the exclusive 24kGoldn Shades, Sunflower Wings, Sunflower Sycthe, and 24k Golden Emote avatar items.
Vans World
As part of the Vans World promotional event, a small number of Vans Apparel items are available to claim for free in-game. This is a re-run of an event from 2021, and gives you the chance to claim any free items you missed the first time around. The Black Realm Backpack and Vans White Spicoli Sunglasses will be available for free on alternating days in rotation for the duration of the event, so be sure to check back periodically!
McLaren F1 Racing Experience
The McLaren F1 Racing Experience offers a generous selection of four items that can be claimed completely free simply by interacting with the display podiums in the lobby. The items are racing helmets based on designs worn by drivers Daniel Ricciardo and Lando Norris, each with an open- and closed-visor variant.
Achille Lauro Superstar featuring Gucci
The Achille Lauro Superstar featuring Gucci experience sees you take on the role of the Italian singer to complete quests and solve puzzles in order to earn yourself some free Gucci swag. (Clarification: your Roblox avatar gets to keep the swag, it doesn't all go to Achille Lauro.) The prizes on offer are all Gucci branded and include an Orchestra Rose and a pair of Superstar Wings, as well as several items unlisted on the avatar shop (Love Parade Faux Fur, Love Parade Bow Tie, Popular Music Crown, Punk Rock Doll, and Queen Elizabeth Skirt).
In order to claim this, you need to be signed up to Amazon Prime, a subscription which includes membership of Prime Gaming. Then go to the Prime Gaming Roblox loot page and click Claim Now to generate your unique code, which you can then enter at the Redeem Roblox Promotions page as outlined above.
NFL Tycoon
To celebrate the 2022 Super Bowl on February 13th, as well as the start of its own second year as a Roblox experience, NFL Tycoon is giving away a series of free NFL-themed avatar items to players who complete a few simple quests. Log in to the experience and follow the instructions to claim your Cincinnati Bengals Who Dey Backpack, Los Angeles Rams Melon Head, Super Bowl LVI Cap, and Wilson Super Bowl LVI Commemorative Football.
Brit Awards 2022 VIP Party ft. PinkPantheress
From February 11th-14th, the Brits VIP Party experience will offer attendees a series of gifts in exchange for completing a couple of simple quests. Just log in and follow the instructions to collect statues and take part in a treasure hunt and you can claim a BRITs B Pendant, BRITs Backpack, BRITs Helmet, BRITs Sign, and BRITs Statue.
David Guetta DJ Party
To celebrate another real-world musician hosting a concert inside Roblox, you can visit the David Guetta DJ Party experience (which originally aired on February 4th/5th) to claim a couple of exclusive freebies: the Music Note Speech Bubble hat and the Titanium Jet Pack back accessory.
Snowman Backpack
The Holiday Roblox Community Space 2021 has prepared a seasonal gift available to all players: the Snowman Backpack. Simply follow the link to the item's page on the Avatar Shop and click 'Get' to redeem.
ROliday 2021
The platform's annual ROliday event is now in its seventh year, but 2021 marked the first time this experience got official recognition with a Roblox partnership. To celebrate this double dose of happy times, there are two free items up for grabs. The Ice Brain hat is available to anyone who joins the event and, at the time of writing, seems to be obtainable directly from the Avatar Shop as well. The Flurry Belt waist accessory, meanwhile, requires you to complete the ROliday 2021 Rumble activity within the event in order to claim it.
The Winter Escape by Ralph Lauren
Roblox's latest fashion brand collaboration with Ralph Lauren is a festive experience featuring seasonal pastimes like ice skating, tree decorating, drinking hot chocolate, and roasting marshmallows. What does this have to do with designer clothing? Well, if you load up The Winter Escape event and raise your Cheer meter by participating in the aforementioned activities, as well as having your avatar try on some classic Ralph Lauren clothes, you can participate in Treasure Hunts to claim a variety of Ralph Lauren freebies. The exact line-up of rewards rotates daily, so be sure to check back often if you want a complete new outfit for your avatar.
The Fashion Awards 2021
To celebrate the annual British Fashion Council awards season, you can attend an in-game event and claim an exclusive freebie! Enter The Fashion Awards 2021 experience and complete the five quests given to you to claim the BFC Gold Opera Glasses.
NFL Shop
The NFL have opened an in-game merch store in Roblox, and to celebrate you can claim a free NFL Helmet for your avatar. Simply enter the NFL Shop experience to claim your freebie.
NIKELAND
In yet another of the platform's real-world fashion brand collaborations, Roblox gives you the opportunity to nab some in-game Nike swag for free. All you have to do to get yourself a Nike Elemental Backpack and Nike Pro Cap is enter the NIKELAND experience and chat with any of the NPCs in the Showroom.
Tai Verdes Concert Experience
To celebrate the Tai Verdes Concert Experience, which took place inside Roblox on November 13th, you can claim five exclusive items for your avatar! Simply load into the experience and you can grab yourself some Shady Circle Glasses, a Sunshine Backpack, and a Tie-Dye Visor. Take part in event activities to earn 60 Sunshines, an in-game currency that can be exchanged for Tie-Dye Pants and a Tie-Dye Shirt to complete the collection.
Zara Larsson Launch Party
At the time of writing, you can still claim a handful of free items added to celebrate the Zara Larsson concert experience that took place on May 21st: a Poster Girl record, pajama top and matching pants, and the ZZZ headband.
In November 2021 an additional Zara Larsson freebie was added to the Avatar Shop. Follow the link to claim your free Zara Larsson Tour Lanyard!
Luobu Events
Transformation Night is the latest Luobu Event, originally Halloween-themed but with a second phase taking place between November 15th and December 6th. This event features 10 free items that you can claim in exchange for the exclusive event currency, Shining Balls (which I'm assuming was a less hilarious name in the original Chinese). Enter the event and dance on the dance floor or complete Shining Night missions to collect Shining Balls.
Outside of Halloween, disco, and accidental innuendo, the Luobu Bump World: Free Jungle is still running, though obtaining these items might be slightly complicated for many of our readers by the fact that this experience is only playable in Chinese. But no matter where you are in the world, all Roblox players can collect a total of 120 Robots within the event to claim all four free prizes: the Vector Arrows, the Nebula Blade, the Slasher, and the Grey Bundle.
Lil Nas X
Lil Nas X returns for another crossover promotion in Roblox! To celebrate the release of his debut album Montero, two items of clothing are free to redeem from the Avatar Shop right now: the Industry Baby Top and Industry Baby Scrubs Pants.
Royal Blood Beanie
You can claim this free item directly from the Avatar Shop to celebrate the 8th Annual Bloxy Awards.
Twenty-One Pilots Concert Experience
A Twenty-One Pilots Concert Experience took place inside Roblox on Friday 17th September, with a pre-show event on Wednesday 15th September. However, entering the lobby outside of those times allows you to participate in a scavenger hunt for free swag: collecting 18 coins nets you a Twenty-One Pilots flag, and there's also a Twenty-One Pilots Bandito Army Jacket available to grab for free from the Roblox Avatar store.
Bakugan Launch Party
All you need to do is enter the Bakugan Launch Party experience and you should automatically receive the Drago Companion shoulder pet accessory!
Roblox Community Space
You can redeem a free Classic Cap by visiting the Roblox Community Space and completing all three tasks viewable under the Tasks tab in the top left-hand corner of the screen.
Verizon promotional item
Verizon customers can sign up to the Verizon Up mobile app to redeem an exclusive free Pro Gamer Helmet in Roblox. After downloading the app, navigate to the Rewards Center and select Claim on the Pro Gamer Helmet. This will generate a unique 12-digit code you can enter at the Redeem Roblox Promotions page.
Amazon promotional item
Players with access to an Amazon device (such as a tablet) can log into their Roblox account from said device to redeem a free Monkey Safari Hat.
Luobu Mystery Box Hunt
Continuing the celebrations of the platform's launch in China under the name Luobu, you can participate in this new event and get free stuff as a reward. Play Luobu Mystery Box Hunt and collect mystery boxes to exchange at the in-game shop for the following prizes:
Rainbow Trail body effect: Find 6 boxes.
Head Blooming head accessory: Find 12 boxes.
Forest Elf or Nova avatar bundles: Find all 20 boxes. Note that you can only redeem one of these two bundles and can't change your choice later, so make sure you know which one you want before redeeming at the Box Exchange Shop!
Kid Nezha avatar bundle: Interact with the Kid Nezha statue inside the arena.
KSI Launch Party
To celebrate the KSI Launch Party event, you can redeeem the AOTP Hat and a pair of Golden Headphones for free from the Avatar Shop.
Nerf Hub
Play Nerf Hub and complete in-game challenges to earn the Dart Glasses and a Nerf Dart Cap.
Stranger Things: Starcourt Mall:
Play Stranger Things: Starcourt Mall during beta development to earn Dustin's Hat.
Wonder Woman: The Themyscira Experience:
Play Wonder Woman: The Themyscira Experience and complete in-game challenges to earn coins with which you can purchase 9 items: 1984 Fanny Pack, 1984 Sunglasses, Barbara Minerva's Jacket, Golden Armor Set, Purrfect Necklace, Savannah Cat Ear Headband, Savannah Cat Head, Savannah Cat Tail, Shoulder Stalker.
Galactic Speedway Creator Challenge:
Complete the 6 quiz challenges in the Galactic Speedway Creator Challenge to earn 6 items: Supernova Pauldrons, Scrap Metal Hat, Rover the Astro-Pup, Saturn Ring Hat, Scrapper's Backpack, and Hyperspace Jetpack.
Godzilla Creator Challenge:
Complete the 3 quiz challenges in the Godzilla Creator Challenge to earn 3 items: Rodan's Head, Godzilla Spine Backpack, and Ghidorah's Wings.
Jurassic World Creator Challenge:
Complete the 6 quiz challenges in the Jurassic World Creator Challenge to earn 3 items: Jurassic World Headphones, Jurassic World Cap, and Jurassic World Backpack.
PC Creator Challenge:
Complete the 3 quiz challenges in the PC Creator Challenge to earn 3 items: Classic PC Hat, Motherboard Visor, and Book Wings.
Beat The Scammers!:
Complete the quiz challenge in Beat The Scammers! to earn the Shield of the Sentinel item.
Ready Player Two Hub:
Enter the Ready Player Two Hub to earn 2 items: Ready Player Two Shirt, and Mys7erious Book.
Robloxian High School:
Beat Robloxian High School to earn the Bombastic Bling item.
Build A Boat For Treasure:
Beat Build A Boat For Treasure to earn the Russo's Sword of Truth item.
RoBeats!:
Beat RoBeats! to earn the DJ's Sword of Agility item.
Piggy:
Beat Piggy to earn 2 items: Crown of Madness, and Sabrina's Sword of Healing.
Free Avatar Shop items:
Go to the Roblox Avatar Shop Catalogue and filter it to show only Accessories, and then sort by "Price (Low to High)". You'll find dozens of featured free items that you can get just by clicking on them and then clicking "Get" on the item page.
---
Expired codes list
Finally, this is a list of expired Roblox promo codes. The below codes no longer work. So if you're trying to enter a code and you see it below, the reason it isn't working is because it has expired.
!HAPPY12BIRTHDAYROBLOX!
RIDERS
$ILOVETHEBLOXYS$
100MILSEGUIDORES
100YEARSOFNFL
200kTWITCH
75KSWOOP
AMAZONFRIEND2021
AMAZONNARWHAL2020
ARGOSWINGS2020
BARNESNOBLEGAMEON19
BEARYSTYLISH
BIHOOD2020
CARREFOURHOED2021
COOL4SUMMER
DRRABBITEARS2020
EBGAMESBLACKFRIDAY
ECONOMYEVENT2021
FASHIONFOX
FEEDINGTIME
FINDTHEKEYS
FLOATINGFAVORITE
GAMESTOPBATPACK2019
GAMESTOPPRO2019
GLIMMER
GOLDENHEADPHONES2017
GROWINGTOGETHER14
HAPPY2019ROBLOX
HAPPYCAMPER
HEADPHONES2
HOTELT2
JOUECLUBHEADPHONES2020
JURASSICWORLD
KCASLIME
KEEPIT100
KINGOFTHESEAS
KROGERDAYS2021
LIVERPOOLSCARVESUP
MERCADOLIBREFEDORA2021
MLGRDC
MOTHRAUNLEASHED
ONEMILLIONCLUB!
RETROCRUISER
ROADTO100KAY!
ROBLOXEDU2021
ROBLOXIG500K
ROBLOXROCKS500K
ROBLOXSTRONG
ROBLOXTIKTOK
ROSSMANNCROWN2021
ROSSMANNHAT2020
SMYTHSCAT2021
SMYTHSHEADPHONES2020
SMYTHSSHADES2019
SPACESTYLE
SPIDERMANONROBLOX
SPIRIT2020
STARCOURTMALLSTYLE
SXSW2015
TARGET2018
TARGETFOX2020
TARGETMINTHAT2021
TARGETOWLPAL2019
THISFLEWUP
TOYRUBACKPACK2020
TOYRUHEADPHONES2020
TRUASIACAT2020
TWEET2MIL
WALMARTMEXEARS2021
WALMARTMXTAIL2020
WEAREROBLOX300!
---
That's all the Roblox promo codes and free items that we know about! Now why not check out our list of the best Roblox games on the market? Alternatively you can check out our lists of codes for other Roblox games, such as Shindo Life, All Star Tower Defense, King Legacy, Arsenal, and Boku No Roblox.