Saints Row 3's Expansion Is Evolving Into Saints Row 4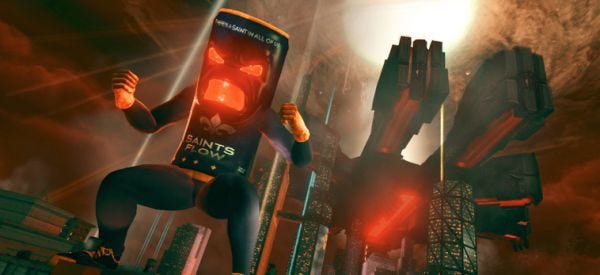 Times are hard at THQ, despite their releasing a ton of good games of late. The publisher is strapped for cash, and it just keeps getting worse, most recently its shareholders launching a class action suit over the disaster of their U-Draw flop. Whether that's a factor in today's announcement, that Saints Row: The Third stand alone expansion 'Enter The Dominatrix' is now to be integrated into the fourth game, we've no idea. But that's what's happening, according to THQ boss, Jason Rubin.
What was originally intended to be a significant expansion pack for last year's absolutely fantastic Saints Row: The Third, is now to be a significant proportion of the game's fourth edition. This came about, Eurogamer reports, after Rubin noticed quite how good the ideas in Enter The Dominatrix were.
"When I looked at the Enter The Dominatrix expansion in production at Volition, I was blown away by the ideas and desire to expand the fiction of the franchise. I asked the team what it could achieve given more time, more resources, and a broader scope for the project. We all agreed we wanted to play that game."
It's interesting, as you can bet your bum Volition would have already had plans in mind for SR4 - it's a series they're fascinated with seeing how far they can take, what extremes are possible while still maintaining something that works as a narrative game. SR3's Dominatrix was surely something completely separate, but now is to be the core of the fourth title, apparently due to be released some time next year.
Speculating, you can see how using something that's already significantly in development will speed up the appearance of a much-needed sequel for THQ's out-turned pockets. But of course it also means the loss in revenue that would have come from both being bought. So I dunno. Maybe it is just as they say it is: they liked their expansion so much they figured it should be reworked into a game of its own?