SOE: PlanetSide 2 Beta Starting 'Within The Next Month'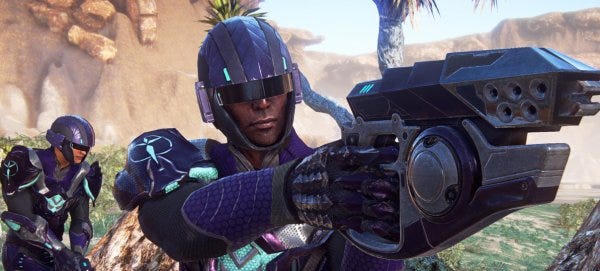 Perhaps even this week, if rumours be true...
You can't see me right now, but I'm - at least, near as I can tell - dancing some kind of jig. I think that's the proper, technical term, anyway. I believe it's something that occurs when people either become very excited or develop serious medical conditions. Regardless, PlanetSide 2's beta is officially right around the corner, so this is a glorious occasion. Specifically, in a new behind-the-scenes video, executive producer Josh Hackney noted that lucky fans will be able to play the beta on a PC that belongs to them in a house they don't have to leave "within the next month." Jubilation! That, however, ate up roughly three seconds of a 21-minute video. It's probably a major understatement to say that there's more after the break.
It's actually all decently worth watching, if you ask me. The bits about the PlanetSide 1 community day and the ensuing multi-faction parade are even kind of touching - well, until the part where everyone decided to kill each other, anyway. That said, if you'd like to skip to some new gameplay footage of the Infiltrator in action, it's at 14:30.
Beyond that, well, ohboyohboyohboyohboy - but with measured, coolly calculated reservations. SOE is, after all, prioritizing early beta access for long-time PlanetSide 1 players, early applicants, and contest winners. But hey, the beta form's still open right now, so why not try your luck? Then you can also be doomed to dance uncontrollably for the rest of your foreseeable future. Er, I mean, videogames!